Charles D. King doesn't give hasty answers. There's no rushing the 54-year-old Hollywood veteran. He delivers measured, thoughtful responses to questions. He doesn't use extended pauses or a multitude of ums to buy thinking time. Over a 45-minute conversation, King, a father of two sons, is crystal.
Perhaps he developed this crisp communication during all his years of pitching clients as the first African-American partner at the esteemed talent agency William Morris Endeavor (now known as Endeavor), where the Vanderbilt/Howard alum worked his way up from the mailroom. Or maybe it's the result of clearly articulating his vision and needs to venture capitalists as CEO and founder of MACRO, the new-age media company that is filling the white space left by Hollywood's inability to provide equilibrium when it comes to telling Black and Brown stories. What's certain is the former agent has thought through several scenarios as it relates to the success of his business—MACRO Film Studios, MACRO Television Studios, Brand MACRO and M88—and that means no matter what you ask, he's thoroughly deliberated on a response on his own time.
King is constantly searching for knowledge so he can provide answers. While most of us were locked indoors during the pandemic, he was on-ground in a hazmat suit learning all facets of film production while making Who Cloned Tyrone, a sci-fi, conspiracy theorist mind trip that cheekily imagines a wicked scheme to brainwash Black folks. The film, steered by first-time director Juel Taylor, fits in with his other Oscar darlings Fences, Mudbound, and Judas and the Black Messiah, but there's more shine and marketing muscle here. The movie, which will make its streaming premiere via Netflix on Friday, also comes on the heels of King closing a $90 million-plus round of funding, with corporate giant BlackRock Alternatives leading the raise.
Related: LaKeith Stanfield's Toughest Role of All Is Himself
"The capital is one thing," says King, who name checks other investors in the round such as HarbourView Partners and Goldman Sachs Asset Management. "But the global reach and validation from institutional capital was incredibly important for the marketplace to understand that we are building a company that's building asset value [and] is going to have economic scale and weight."
In the storm of the writer's strike and weeks before actors initiated their own picket line, I sat with King to dig into MACRO on a micro level and discuss what this next round of funding means for Hollywood's most important Black financer of films.
---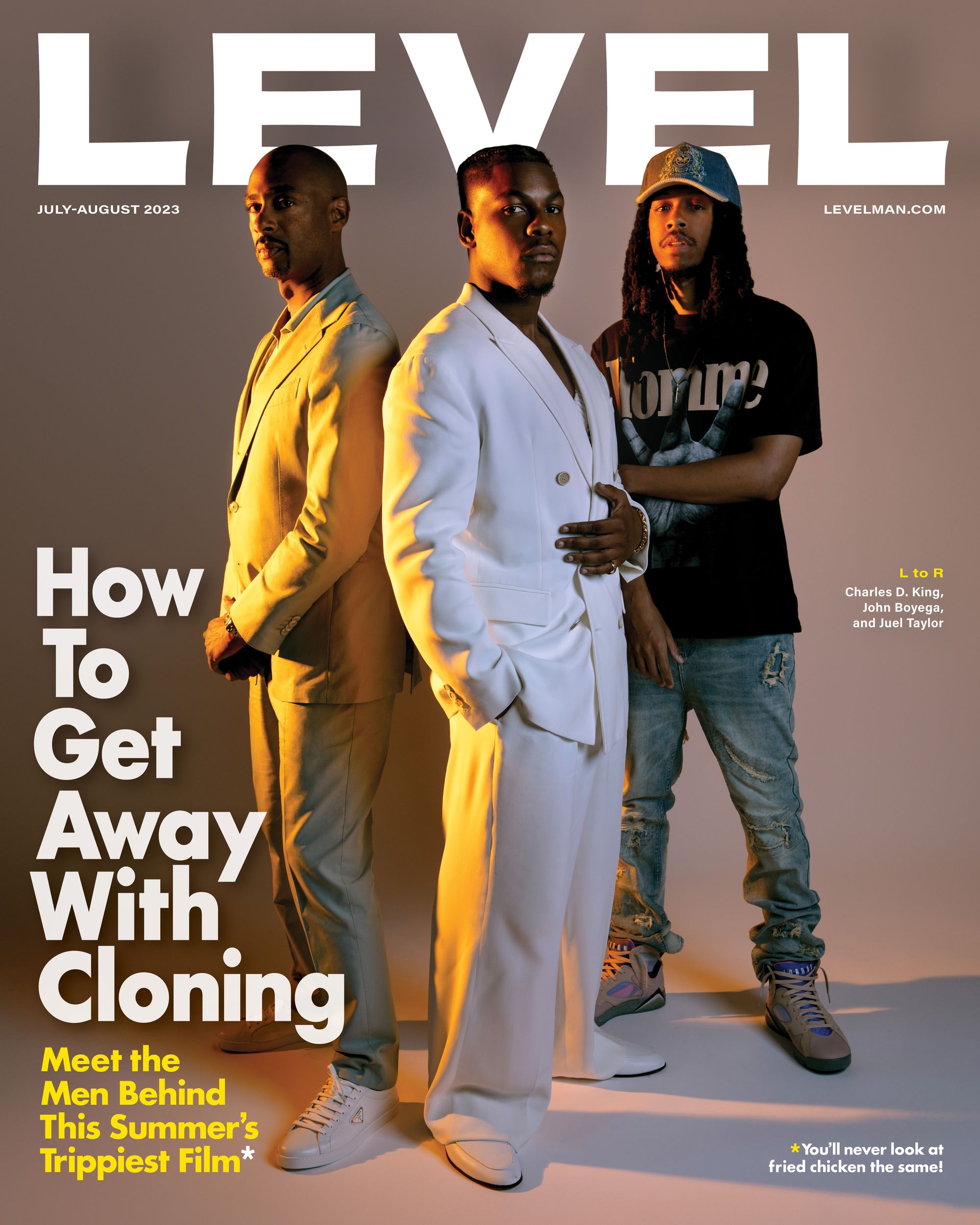 ---
LEVEL: Charles, what is your superpower?
Charles D. King: That's a good question. I have an eye for talent and the ability to bring out and support their gifts. And also an ability to bring people together around a theme or a mission. I'd say that's one of my superpowers. I'll give you a second one: vision. I see the landscape, the entire playing field, where our business is going, where it is now, where it's gonna go in the future—spotting business trends and opportunities. I'd say those are two of the superpowers.
Another one of your superpowers, in my opinion, is your ability to network across various sectors. Networking is a skill most people struggle with. How did you master it?
When I'm interacting and getting to know people, it's not a one-way street. It's not just about, "Hey, what can you do for me?" It's, "How can I be helpful to you?" Also, I love to learn from other people… I feel like I learn from interns that work at our company, from young executives, just like I can learn from a CEO or a movie star. I also like to be intentional. If I know that I'm looking to build relationships in a space that I haven't worked in before or that's new for me, I try to put myself in the realm or possibility of meeting the right people and then I organically let things flow from there instead of forcing things.
If I wanted to get to understand technology or I'm excited about what's happening in the innovation sector, I just started investing. Then I used being an investor to get to know smart entrepreneurs. That naturally began to build my network in that space from a place of intellectual curiosity.
Related: 'They Cloned Tyrone' Director Juel Taylor Wants You to Question Everything
What was the last thing you learned from an intern?
Every time I sit down with interns and assistants, I ask them what are they watching, what are they reading, where do they like to go, what inspires them? And I'll even use this film, They Cloned Tyrone, [as an example]. Mark Wright, who's an executive producer on this film, was the sixth intern at MACRO. He started interning with MACRO right as he was starting film school. And then somewhere after he graduated, he started working at MACRO with our head of production, Kim Roth, who's also an executive producer on the film. A year or so into Mark working here, he and another executive named Yira Vilaro said, "There are these talented film writer/directors named Juel Taylor and Tony Rettenmaier. You must sit down with them and read their television script."
We sat down with them and were blown away. We developed a television show [with them] and when they went out with They Cloned Tyrone, we were already in business with them. It was wildly competitive but the film landed with us. That's not the last thing I learned from an intern but that's one thing that's bringing us all here together today.
"For me to be embedded in a production bubble away from my family for six months, with a face shield, mask, and at times a hazmat suit, it was quite a life experience."
You refer to MACRO as a new-age media company. Can you define what that means?
When I think about being a media company of the future or studio of the future, we're one that is focused on what I would call the global new majority of people of color who are unapologetically telling stories from and for their community, but with themes that are universally appealing that everyone can relate and aspire to. There's also a level of execution to them.
And the reason why I say it's a company of the future is because we're talking about an audience that has historically not had the variety of their stories told and haven't been in a position of power to tell their stories. And so that in and of itself is a company of the future but it's also the marketplace of the future. And then doing it in innovative ways that is collaborative with other storytellers, I believe it is a template for others.
Congrats on the $90 million raise.
$90 million-plus [laughs].
$90 million-plus, excuse me. [Laughs]. BlackRock's portfolio encompasses the entire world. They're massive. Outside of the capital, what are you looking to get out of the relationship this go round?
Capital is one thing but the global reach, the validation from institutional capital was incredibly important for the marketplace to understand that we're building a company that's building asset value that is going to have economic scale and weight. Our goal as we continue to scale and grow and show that we're building value for the company and our stakeholders, hopefully we'll be able to tap into their vast resource base and reach to continue to grow both organically and inorganically. They've been great partners thus far since joining us in the last six months. And our hope is that we'll only continue to grow over the course of the next five to 10 years as we continue to scale and evolve as a company.
You have the business brain but you also have an understanding of creative. Your mom was a poet and a writer. Does the understanding of creatives come from seeing her at work?
Yeah, I do think that. It's so funny, I was talking to my mother about this this weekend… I don't know if you ever saw that Pixar film Up, where they talk about your core memories. One of my core memories is when I was in elementary school coming home every day after school and asking my mother, "How many pages did you write today? How's the book going, mom?"
She was writing during the day while we were in school. I remember how hard she was working on it. When she was finally finished [she had] excitement and then she started submitting it. But I also remember the rejection letters coming and the way that it impacted her. It is absolutely one of my core memories, seeing the light of excitement and then seeing it dimmed, and then seeing the hope come back to her later on in life now that she's been able to self-publish some of her work and really get her art out there in other ways.
You made They Cloned Tyrone in the pre-vaccine pandemic. You were on the ground, too. What was that like?
I'll be honest with you man, it was quite a time. It was quite an experience. I'm the CEO of MACRO and we have a fairly large company with almost 50 people. For me to be embedded in a production bubble away from my family for six months, with a face shield, mask, and at times a hazmat suit, it was quite a life experience. It's one that definitely has shaped my appreciation for the filmmaking process and every role and step that goes into [making a film]. Through each of the last two productions where I was embedded—They Cloned Tyrone and Judas and the Black Messiah prior to that—my respect for everybody in the chain of making a film and what goes into it has been exponentially expounded. I have so much respect for the process and the craft. I learned a lot.
Related: John Boyega Has a Conspiracy Theory to Share
I'm always happy to see a John Boyega casting because it helps shed the blockbuster shadow that the Star Wars franchise places on actors. What made you cast him as one of your leads?
I completely agree with you. He's so gifted and talented. He's got so much range. I remember seeing him for the first time in Attack the Block. That's when I first met him. It was before I launched MACRO; I was a partner at William Morris Endeavor and we were trying to sign him. We were like, "There's this kid who looks like Denzel Washington, let's sign him."
I got to know John before Star Wars. And we have a great kinship. He and his manager, Femme, we've known each other for years. It was really cool that when we were talking about who could play this role and his name came up, he had been expressing interest in it. And when he and Juel got together for the first time, Juel was like, "Yes."
To see him play a role like this that's so Southern, you would never expect that. He just brought it, both his performance, his look, everything. He was so committed to this role. Honestly, I can't imagine anyone else in the role at this point. I think people aren't going to recognize him. And I think it's going to be another great piece of the puzzle for him as an actor and where his career is going to go after this film.
"As long as there are strong guideposts and parameters and regulations in place that make sure AI doesn't go off the rails, I see the benefits of it. And going off the guard rails would include making sure it's not going to impact pure artistry."
The last time there was a Hollywood strike, you were an agent. How did you navigate it then, and how are you navigating it now as a producer?
The last time there was a writer strike, I was very fortunate. Even though I was in the motion picture literary department at WMA, it was before William Morris had merged with Endeavor. I represented writers and filmmakers but I also had a just as large (if not larger) client base outside of that area: music, multi-hyphenates, some very prominent movie stars and playwrights, moguls that were not just purely writers. So I really doubled down on working with artists outside of the space I was sitting in technically as a motion picture lit agent, such that the year after the writer strike, I actually had my best year financially as an agent because my client list and my business was so diversified.
That can give you an idea of what I'm doing right now. I'm busier than ever because I find opportunity amidst the chaos. And that's what I'm focused on at this time. We absolutely are supportive of the writers, and we hope for a great deal to be made that's going to be helpful to all the artists, and that they're able to meet in the middle in a way that everyone's going to be happy. While that's transpiring, we're supportive of that and we're going to continue to make sure our business is diversified.
The writers guild want more regulations around AI. Does AI make you nervous for writers?
There's nothing that can replace a great person and amazing artist and the nuance of how they are going to express their artistry and storytelling. My partners that run our venture capital fund, MaC Venture Capital, are investors in a broad range of tech-enabled companies, including AI. I think they're being really smart and thoughtful about those companies they're investing in. I do believe that with anything, when you've got power, there's the power to do good with it and there's the power that, unregulated, could be challenging. As long as there are strong guideposts and parameters and regulations in place that make sure AI doesn't go off the rails, I see the benefits of it. And going off the guard rails would include making sure it's not going to impact pure artistry, but there are going to be ways where AI might be as well.
I want to get back to the other parts of MACRO that we haven't discussed. Congrats on signing Damson Idris. The artist roster is growing. What is the growth strategy for the M88 business?
My partners, Phil Sun, who's the president and managing partner, and the other two partners, Oronde Garrett and Gaby Mena, are going to continue to find like-minded partners, other managers that are best-in-class representatives but also understand the spectrum of how to help artists build their businesses and support them creatively with where they want their artistry to go. They are already representing such amazing culture-defining artists [like] Damson and Michael B. Jordan or filmmakers like Blitz the Ambassador and Ryan Coogler. As the company continues to expand, there will be more amazing artists, particularly as other managers and partners join them.
They're going to go deeper into representing television writers and representing multi-hyphenates. But I think what you'll see is just like our productions are beginning to expand internationally… there's pockets of talented artists globally, and you could see that M88 will have a natural reach in a global marketplace of talented people all around the world.
"Tyler [Perry] clearly already has a strong relationship and has already been a partner with BET and BET+. And so that makes sense if it lands in his hands… Whoever is fortunate and blessed to land BET will do a great job continuing to honor its history and legacy on behalf of our community."
Can you remember the moment when you knew Tyler Perry was special?
I'll give you three. One, the first time I met him, he was a visionary. From the first dinner, I remember there was a steakhouse we went to, and he shared his life story, about his vision, what he wanted to build, and how he wanted to build his own library. He wanted to take this amazing brand and characters that he had such success with in the theater world, and was going to bring them into film and television. It was clear you were sitting with a visionary who was going to really be transformative and who was crystal clear with who he is and what he was going to accomplish.
Second time was at my barber shop in Inglewood. I'd been sitting in that barber's chair from the time I first moved to L.A. and was in the mail room [at WME]—actually before I even landed the job at William Morris. For five years, I'd been sitting in that chair, became an agent, worked and met all kinds of people, and then it was somewhere in there, I was talking to [my barber] and he asked me about something. I said, "I started working with this playwright who's going to make movies based off his plays, this talented person named Tyler Perry."
It was the first time in those five years I've been going to this barbershop that the ladies who did hair for other people actually butted into the conversation. It's like, "Did you say Tyler Perry? Really, Tyler Perry?" They knew everything about him and his plays. And not a single movie had come out yet.
Shortly thereafter, I was at a family reunion and it came up and people said the same thing, "Tyler Perry? What, Tyler Perry?" I knew then.
Related: Tyler Perry Is Ready to Defend Himself
As someone who champions Black ownership, does the possibility of Tyler owning BET get you excited?
Paramount is looking to spin it out to be in the hands of successful entrepreneurs who want to take it to the next level and continue to honor it, because there's so many titans, including Tyler. And you got Byron Allen, Diddy, and several other contingencies of really smart, incredibly talented entrepreneurs that are going after it. I have no doubt they're going to care about BET and what it has meant, but also what it could be. Tyler clearly already has a strong relationship and has already been a partner with BET and BET+. And so that makes sense if it lands in his hands… Whoever is fortunate and blessed to land BET will do a great job continuing to honor its history and legacy on behalf of our community.
Before we end our conversation, how was your Father's Day?
Thank you for asking. I had the most amazing Father's Day. My two sons, Noah and Julian, are 16 and 14. We went to brunch together and then we came back home and were hanging out watching a movie until one of them fell asleep and the other one went and played video games. After that, they surprised dad and took [me] to a really nice steakhouse. Normally, we're all together as a family but my wife was out of town at Cannes Lion that weekend. And so it was just me and the boys.
---
CREDITS
Design: Paul Scirecalabrisotto (@paulscirecalabrisotto)
Stylist: Raina Silberstein (@styledbyrainasilberstein)
Charles D. King wears an a suit and knit polo by Suit Supply and Prada sneakers.