Don't be fooled by the saccharine lyrics and melodies that ooze from Isley Brothers classics. The songs' authors are gladiator competitive. Their iconic lead, Ronald Isley, is nothing short of loquacious when addressing this fact.
The man formerly known as Mr. Biggs admits that since the 1950s, he and his brothers studied the best with the clear intention of besting them. When Marvin Gaye made "Sexual Healing," the Isleys birthed "Between the Sheets." When Teddy Pendergrass released "Close the Door," they followed with "Don't Say Goodnight."
Ronald wouldn't even oblige Michael Jackson's request to be produced by him — he felt the future King of Pop had already mastered too much of his style. Michael was 10.
Maintaining an edge was such catnip for Ron and his brothers that they once moved their new guitar player into their home to prevent anyone from stealing him. That guitarist's name was Jimi Hendrix.
So it shouldn't be a surprise that for Ron Isley, April's Verzuz matchup between the Isley Brothers and Earth, Wind & Fire wasn't as Easter pure as it appeared. Ron told me this during an hour-long phone call, 33 days after the epic night that saw his fervor from women of all ages receive a spike, thanks largely to his newly unveiled platinum beard. An uptick in lady lust is an incredible feat when you consider our convo took place two weeks before his 80th birthday.
While Ronald Isley's legend has long been solidified, he's got no intention of resting his incomparable vocal cords. Shortly after Verzuz thrust the Isleys back into the public consciousness, the storied siblings dropped a spanking-new Snoop Dogg-featured track called "Friends & Family," which is destined to soundtrack some two-stepping this summer.
In a career-spanning conversation, Ron Isley speaks about his showdown with the IRS, his loyalty to an infamous collaborator, and being one of 2021's sexiest men on social media… who was born before color television. Relax and take notes from your mom's first MCM.
---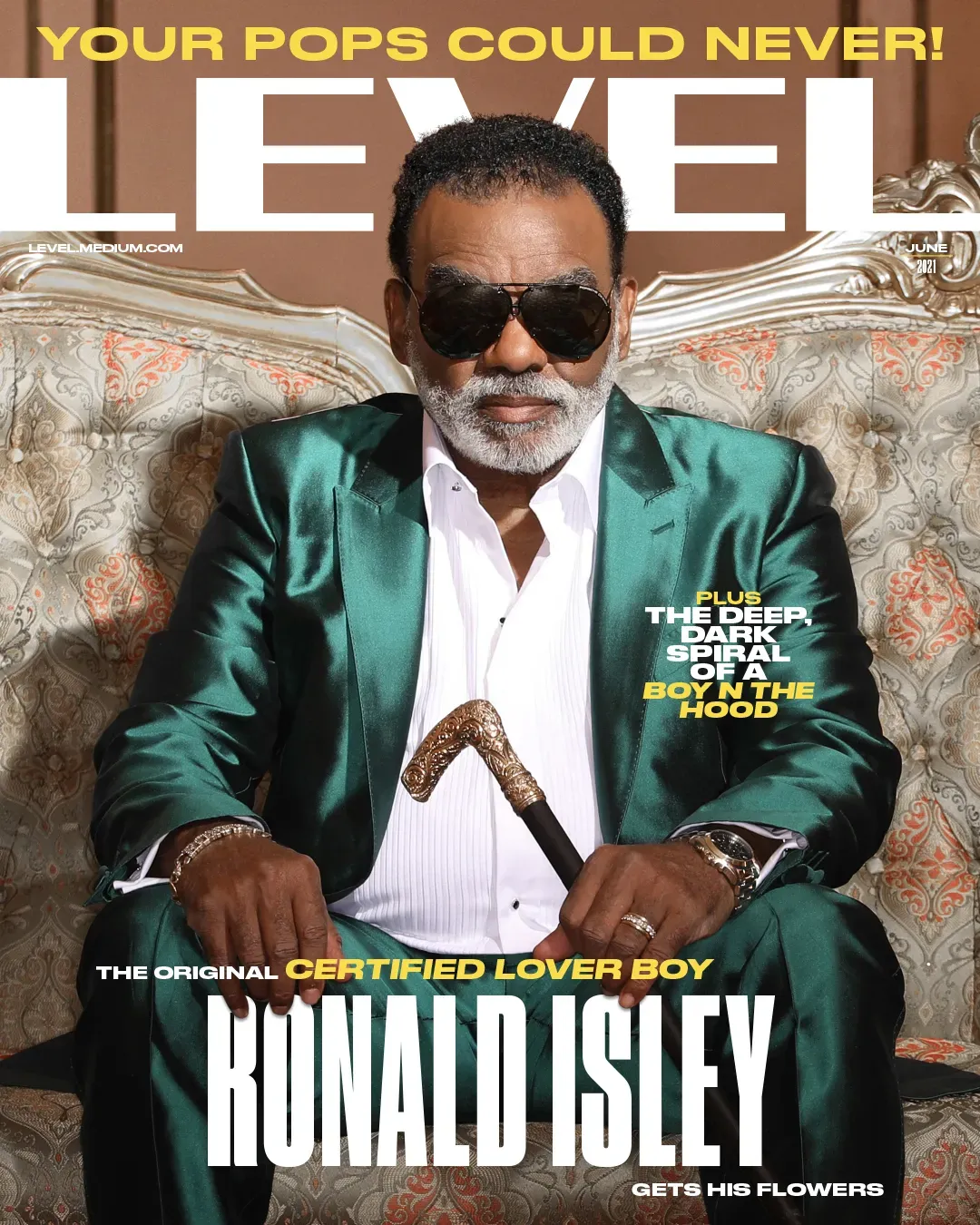 ---
LEVEL: What attracted you and your younger brother Ernie to the idea of doing Verzuz with Earth, Wind & Fire back in April?
Ronald Isley: Earth, Wind & Fire are very good friends of mine. I was watching the one with Gladys Knight and Patti LaBelle. [Swizz Beatz] had been talking to me about it over and over and over and over. So I thought this would be the time to do it — on Easter, when everybody would be home. When they made the announcement, my friend Steve Harvey heard about it and went off. He thought about hosting, and I said it would be great.
Of course, that was a celebration for two of the greatest music acts ever, but Verzuz is rooted in competition. Did you feel any that evening?
I joke that we were in the business 15 years before [Earth, Wind & Fire] had a group. They asked us to choose 25 songs and let the DJ put them together. All we did was pick the songs. As the show started, [our first song was] "Love the One You're With." Earth, Wind & Fire's was "That's the Way of the World." There's no way I would've played "Love the One You're With" if that's what they were gonna play. So it took us a little time to catch up with them. But the funny thing is our album sales went up like 460 [percent]; [they] went up 120 [spots on Rolling Stone's Artists Chart]. We share the same label, so our record company, Sony, went crazy. [Laughs]
How does it feel to be a couple weeks away from your 80th birthday?
I know it's a blessing, but I feel like I'm 50 years old. I keep up with everything. My wife is a young lady, so she keeps me up with everything from designers on. I feel excited about the business that I'm in — singing and recording.
All the women I've been married to, I'm still their best friend. It's funny, when you remove the sexual thing, you can agree on a lot.
Is having a wife who is 44 years old the key to me feeling like I'm 50 when I'm 80?
Nah, just have the woman you love to be with and enjoy it. It took some time [for me to know I wanted to marry my wife]. Certain times when you meet someone, they have a destiny for where they wanna go and you have yours. Sometimes they clash. But all the women I've been married to, I'm still their best friend. It's funny, when you remove the sexual thing, you can agree on a lot.
How does it feel to own a beard that has a fan base of its own?
You know, I never grew a beard all them years. Then when this pandemic broke out, I stopped shaving for a while. Then my wife had some people over at the house, and they were like, "Ronald, you have to keep that beard." Everybody loved it. Then she took some pictures and put it on Instagram. It went viral.
I've never seen a man receive a sex symbol resurgence at your age. It's amazing.
It's amazing to me, too. [Laughs] Several companies are wanting to put out beard products and whatever shampoos and oils I use. All of that will probably be out there in a couple weeks.
Is your wife okay with the number of women sliding into your DMs?
That's all she do is joke about it. We have the most fun laughing at that stuff.
The Isley Brothers don't receive enough credit for going independent back in the 1960s. It was a risky move, especially so young in your career.
I wrote the song "It's Your Thing," and my brother said he didn't want to just give it to a company and let them get all that credit. We prayed about it; that's when we started T-Neck [Records]. The record sold over 5 million copies.
Donny Hathaway was one of the greatest singers ever, but he never felt he could compare to Stevie Wonder. Who was the vocalist that kept you up at night?
Sam Cooke. He could sing anything — gospel, R&B. I took a lot of his style. Sometimes you may not sound like someone, but you can feel how they handle certain syllables. Everything Nat King Cole sang, you could hear the diction. That's what my father wanted me to do. He'd say, "Don't blow none of the words." Jackie Wilson, too. We became the best of friends.
The Jackson 5 famously did a cover of "It's Your Thing." What was it like hearing Michael for the first time?
He recorded it and came up to me like, "I learned all of your stuff." He asked us to produce him when he came to Sony. I said, "Man, he would have our whole style." He's one of the greatest. I knew he was going to be a star, but I didn't know he had the willpower to outdo and outsell everybody. That's what he set out to do. He had the best dancing style out of everybody. He was like Kobe Bryant when it came to rehearsing. He rehearsed all the time.
A big part of your legacy is the fact that you remain musically current, not just as an appreciator, but you've collaborated with everyone from Lauryn Hill to Kendrick Lamar. Do you attribute your open-mindedness to your parents making you sing various styles of music?
Yeah, we had to sing everyone's songs. Gospel, hillbilly songs, pop, R&B, everything. That's how we lasted so long. I just wanna be good, and I know in order to be good I have to keep up with what direction life is taking the people. I have to keep my eyes and ears to the street.
What's funny is when R. Kelly wrote "catch another case," I didn't know what he was talking about until later. I'm thinking [the song title is] "Contagious," so did he catch another disease? [Laughs]
Wait. You initially thought the lyrics "catch a case" on your song "Contagious" were about catching an STD? Hilarious.
[Sings] Give me what you got. [Laughs]
You've remained loyal to R. Kelly over the years despite his awful transgressions and legal issues. Why is that the case, Mr. Isley?
I was surprised to hear things, because I would say, "That's not the R. Kelly I know." He looks up to me as a father. His mother was a singer. She sounded something like Aretha Franklin. She taught him about me. Now, he has a part [to him] that I never seen. All of his private stuff, he kept to himself. To see him have these problems and what they're trying to take away from him is really hurtful. It's hurtful if he did some of the things they say he did. The only thing I say is the Lord… His life is in the Lord's hands now.
[Michael Jackson] asked us to produce him when he came to Sony. I said, "Man, he would have our whole style."… I knew he was going to be a star.
You were convicted of tax evasion in 2005. Were those issues your fault or your accountant's?
I was suing the government, and I didn't want to take a deal. I was told to go along with them, but I'm thinking, "No, they owe me money." They made an example out of me. [There were] other people that owed a lot of taxes — Aretha, Dionne Warwick — but they grabbed me. Trump hasn't paid nothing in forever. At the same time, 70 million people voted for him, so they can't just throw him under the bus. You saw what happened at the Capitol in January.
We sold our houses in New Jersey. My brother's house sold for $7 million and a half. My house sold for close to $2 million. They took all that money and paid our taxes. Between the three of us, we owed close to $3 million, including penalties and interest. Now, after they sold the houses, they were supposed to give us the money back that we had left over. I said, "They owe me over $10 million. They can't be grabbing me for no million dollars." And they did. Whatever [the government] say, they gonna win. Now I'm all paid up.
Is it true that you feel you gave your greatest performance while you were in prison?
Yup. They weren't able to record it, but the place I was at was like a camp. No bars or anything. Close to 200 people. [Inmates] went to church once a week, so I did a special concert for them. Everybody was crying all over the place. Some of the people I met there are my best friends now.
When it comes to vocalists, you are considered in the GOAT conversation. Do you recognize this status?
Yeah, I recognize that. But I want to show the people that I can go further… I feel like I can do this forever.
This interview has been edited and condensed for clarity.