Back in the '90s, when hip-hop giants of the era were grappling for rap's top spot, there was another competition running parallel between some of those artists' most frequent collaborators—the creators who were bringing the beats and rhymes to life on the small screen.
"[Between] TRL [and] 106 & Park, there were 20 slots—and everybody was fighting for 'em." remembers Chris Robinson, the director who got his start crafting eye-catching music videos for the likes of Big Pun and Jay-Z. He speaks fondly of the days when he—along with folks like Hype Williams, Benny Boom, and Director X (f.k.a. Little X)—reigned from video countdown shows to public access TV programming, like Ralph McDaniels' Video Music Box. He says he's even considered creating a scripted show to depict those monumental years. "It was a beautiful time, man. [But now] it's so different. You could do a movie and it feels like you poured a glass of water into the ocean. There's so much. It's even harder to garner attention, but it's still the same. The best stuff rises to the top."
Robinson's latest work certainly has championship pedigree. The Baltimore native helmed the coming-of-age story Shooting Stars (now streaming on Peacock), a feature film adaptation of LeBron James and Buzz Bissinger's book of the same name, which depicts Bron's legendary high school title run, and the childhood friendships that made it all possible. The man who previously brought us T.I.'s acting debut in ATL and BET's epic trilogy series The New Edition Story was approached directly by James' company, SpringHill, to bring his story to life, with stellar performances from Caleb McLaughlin, Wood Harris, and Marquis "Mookie" Cook, who plays King James himself.
Robinson jumped into the director's chair to speak with LEVEL about Shooting Stars' coming-of-age appeal, his own incredible journey as a filmmaker and director, and that one time he challenged LL Cool J to a rap battle.
---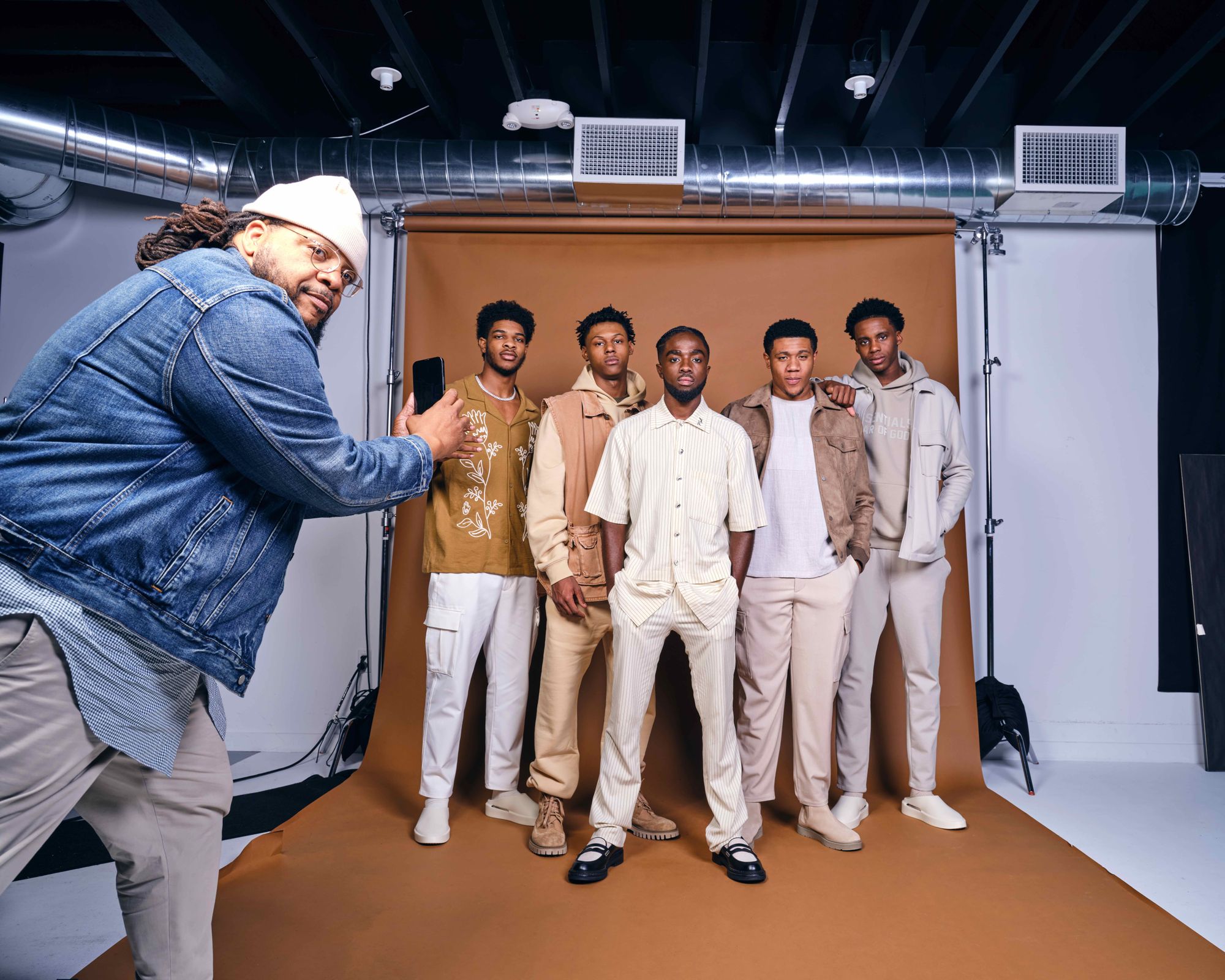 ---
LEVEL: What went into the decision to cast then high school basketball star Mookie Cook (now playing ball at the University of Oregon) as LeBron James rather than an actor?
Chris Robinson: We saw everyone in Hollywood and 99.9 are focused on acting and they don't ball—they can't ball. This movie is about much more than basketball. But me being a sports fan as well, I was like, 'Look, this is LeBron James.' Everybody who has ever picked up a basketball is going to watch this film. Kareem Abdul-Jabbar is going to watch this. A nine-year-old kid is going to watch this. The basketball has to be authentic and real.
We did the traditional casting and quickly found out that there weren't a lot of great ball players in the actor pool in L.A. So [along with] a friend of mine, whose son is a prep star in Atlanta, [we] took it upon ourselves to go to AAU tournaments and we started looking for cats. First cat we found was Scoot Henderson (now of the Portland Trail Blazers). We met his dad. And at one point, we were considering him for LeBron because he was just such a beast and still so young. So we created an audition where we took 30 guys from all over the country, flew them to L.A., did traditional readings of the script, and had them play basketball. One night around midnight, my friend texted me a photograph of Mookie dunking the ball and I was really excited. Although he did not look exactly like LeBron, he embodied him. He just had that kind of energy. And when we met him, we were like, 'Wow, this kid is LeBron.' He auditioned and the rest is history.
Throughout the film, Mookie was able to get LeBron's voice and his mannerisms down. What are your thoughts about his performance in Shooting Stars?
Mookie's performance was great. But, you know, part of it is that he's an athlete and he understands being coached. He's a very coachable ball player. He's got a high basketball I.Q. So we were very intentional in just transferring that over to acting. We'd tell him, 'This isn't scary. Don't be afraid because there are cameras and a bunch of people looking at you. Think of them as people in the stands at a basketball game.' And then it was him studying LeBron, listening to his voice in interviews when he was in high school. We had to push Mookie. He would do it and it would be amazing. But then he would get comfortable and kind of out of character, use his own voice and posture. And I always had to remind him like, 'Look, you're LeBron. You're the baddest dude in the world. You're 17 and the whole world knows that you're a bad man.' Mookie would take that in. In the beginning, he was 30 percent LeBron before he had to be reminded. By the end, he was walking around as LeBron.
"I knew [Caleb McLaughlin's] work ethic was amazing but you can either play ball or you can't. And he came to the audition balling."
How much time did you spend with LeBron's actual Fab 5 to depict the story?
I never met LeBron until the night of the premiere. I wanted to meet him and made requests, but he does have a day job. And he's a mogul. I was like, 'This is his life story.' But he'd already written the book and created the documentary. And now we're doing the feature film. At first I was like, 'Wow, he doesn't have time to meet?' But what's beautiful about SpringHill and the way they move is they understood to give the filmmaker freedom. It was actually a blessing that I didn't meet LeBron. He's an icon, right? So if I met him and he's telling me a story, I was going to take that as gospel. I'd want to please him in the way that he was portrayed. But I spoke to all the real people around him. I met the rest of the Fab 5. I met the coach, the coach's wife. I went to Akron and met everybody down to the man at the diner and the man at the barbershop who knew LeBron. [That] really informed the way I shot the film. And the way it made me understand that everybody's story in this bigger story was just as important as LeBron's.
These guys are all from the same town, played together since they were nine, and got the national championship. That story in itself is amazing. Then, out of that comes one of the best basketball players in the history of the game. And then all the other guys successes.
Related: Here's What I Learned From Playing Professional Basketball With J. Cole
What about their story did you feel wasn't yet told? And why were you interested in being the one to tell it?
I went to SpringHill to pitch another project that was attached to music and it didn't work out. But Jamal Henderson, who I had worked with in another capacity before he came to SpringHill, slid me the script for Shooting Stars. He was like, "LeBron loved The New Edition Story. Will you read this?" I read it that same night and what struck me were the relationships. This is a father-son story. It's a brotherhood story. The first script, written by Frank E. Flowers, was just great. I had some changes and some thoughts but I first went to read the book. And I had already seen the documentary. The more I thought about it, the more I realized this is bigger than basketball. Then I kept being reminded that this is a true story. These people are alive—they exist. Then I realized this is everybody's story. Me and my cousin coached our sons when they were playing basketball at 11 and 12 years old. We look back and realize those were some of the greatest times in the world. How you bond and how when they lose, they cry. And how when they win, you go and get pizza. They're learning lessons along the way. Nobody thought their kid was going to be the next Jordan, but it illustrates that you can't skip steps. Even the great LeBron James went through the process of being a young man. Being disciplined. Fighting with his friends. Spending the night with each other, playing video games together. All those are building blocks for a foundation, no matter what. Whether it's basketball or another endeavor, there's that time between eight years old and 18 years old where you develop your relationships with friends. You develop your integrity. And that's what really drew me to the story.
Let's shift gears a little bit. What was the spark that helped you realize storytelling was your gift?
It's interesting. There are report cards from the second grade that my dad showed me recently. And they said Chris is a disturbance in class. But he tells these stories that has the whole class paying attention. I didn't remember that but I think really early there was just some kind of connection to storytelling. If I was with my grandfather when he told me a story, I was at his knee just enthralled about what he would tell all of us about his life.
"At first they were like, no, but Nas read [the treatment] and he got it. He understood it and he trusted me."
I fell in love with album covers, photography, and music videos I would see on TV. MC Lyte, EPMD—I was enthralled with Friday night videos, because we didn't have cable. You would see all this different kind of artistry in three-minute blocks. I really got into that. My dad had one of the first VHS cameras and I started shooting my friends. At 16, I would create fliers that said, 'If you need a music video, call me' and put them in record store windows in Baltimore. Eventually somebody called. I totally lied to him, told him I'd done it a thousand times. We shot 16mm. I had no idea how to shoot film, but we crushed it, had our own premiere party in my parents' backyard. That was enough for me. I was like, I'm doing this.
The big break for me was this show called Pump It Up that had a contest where we remade "The Boomin' System" by LL Cool J. I won the contest and got to meet LL. He gave me some great advice way back in the day… I remember seeing Diddy outside of a party and he was like, "Hey man, ain't you the dude that did Peter Gunz and Lord Tariq?" It was like that. We were all partying at the same places. Eating at the same places. Showing up at the same basketball games. Guys who were assistants were becoming executives and presidents. We all kind of moved in the same direction.
How has each step helped you in your journey along the way?
You have a vision. And your vision is, you want to shoot The Godfather before you've shot anything. You want to do something on that level because you love that example so much. What you learn is, Francis Coppola is from an Italian family, he understood this book and this family differently than anybody else could. Then you realize that so much of yourself is in every single production.
Each step was important. At one point, I thought I'd play pro football. Then I thought I'd be an MC. That's the real LL story. When I won that contest and went to New York with my boys, I said "Yo, I'm gonna battle LL. Have the camera ready at the dinner."
I'm 19 and totally delusional. I challenge LL, like, 'Yo, let's rhyme.' He smiled and said, "Listen man, I'm not going to rhyme with you. But you should meet all these people at this dinner. All these people who are in promotions and marketing, get their numbers and create relationships. Because you're great at what you do and you need to keep doing it." It's some of the best advice I've ever received. Because all those people became executives and presidents of the music video division, and we had a relationship from that one dinner. That was an important step.
Related: How Bun B Aged Gracefully in Hip-Hop
Do you have a favorite music video that you've done?
They're all like your children. It's hard to pick one, but I'm proud of a lot of them. One of my favorite all-time videos is "One Mic." Nas is my favorite lyricist. I had just went to Africa maybe a month earlier and I listened to that song. I was inspired by that uprising of the children in school who were forced to learn the Afrikaner language under apartheid. People at the label were thinking about selling records. They had an idea of what it should be, which was more about clothes and trends. But I had to get this out. This really inspired me. At first they were like, no, but Nas read [the treatment] and he got it. He understood it and he trusted me.
Alicia Keys' "Fallin'" is another one. Clive Davis had this new amazing songstress and his history with the most amazing R&B divas like Whitney Houston and Mariah Carey. I wrote a treatment about a girl visiting her man in jail. He called me, like, "Are you crazy? What? Do you know what I'm trying to do here with this artist?" I explained it to him—that's the reality of love in our community. We don't throw people away because they are in jail. You can truly, really still love somebody because they made a mistake or just a system we live in. It gives her more relatability. We all knew she was gonna be huge. And if you acquiesce to put her in a dress, put her on a stage, and shoot beautiful imagery, that would've definitely went through. But would we remember it? Would it be special?
Snoop and Pharrell's "Beautiful" is one of my favorites. We went to Brazil for like 16 days. It was life-changing. We were in the favelas and just understanding the culture and the people. It was amazing. And Snoop is an ambassador. He's loved by so many people. That was a change for me and what kind of work I wanted to do through a music video. I still think Brazil owes us. [Laughs] I think tourism shot up after that video.
The last video I did was Drake and Chris Brown's "No Guidance." That was a lot of fun. At the time they had some kind of beef and Drake was really involved in the concept and working with him in understanding how to bring these two brothers together. For them to come together to add the comedy and the humor, not taking themselves so seriously, but it's still feeling like a big moment both visually and conceptually. And it was a hot song for the summer.
I appreciate that answer because your career spans so long. You have so many bangers. But I think everybody remembers why Chris Brown and Drake had a little tiff [Laughs].
It came to me while I was saying it. I forgot but I remember it got heated.
I mean, look, I would fight for Rihanna, too.
You might have to stand up for that one.
One of my favorite videos you did was with A$AP Rocky and Skrillex, "Wild for the Night."
We had a ball doing that. Man, it was interesting. We had a scene set up for this crazy party. And I was like, let's talk to the casting director. [A$AP] Yams was like, "We don't need a casting director, let's just tell people we're here." And he literally went on social media and let people know they were having a party and it's gonna be filmed. In three hours, it was a line around the block. So I was learning the power of social media during that video and how an artist's fans can move the needle.
A few more questions around Shooting Stars. Were there any great stories that didn't make it into the film?
There are a lot. That's the thing about a feature film: It's not a documentary, so it's not just about what happened. It's about the flow, the energy, how you communicate with the audience, how you take the true story, be accurate, be authentic, and then take another direction that was unexpected. That's the difference between telling a story in a feature film format and a documentary.
There's a lot of things we left on the cutting room floor for the betterment of the story. One I can remember is a very emotional scene with two amazing actors, Wood Harris (Coach Dru Joyce II) and Caleb McLaughlin (Little Dru). There was a conversation between father and son, and all the things that Little Dru felt and all the things that Big Dru felt he needed to apologize for as a father in this chase to be the best. It was amazing. But it came at a part in the movie where nothing after it would've mattered in the flow of the film. We very reluctantly left it on the cutting room floor. When we did our testing, the audience loved the way our story flowed. So we kept it out.
Little Dru's character comes across as the glue character, and that's who he is in real life. How important was his casting to the film? And did Caleb ever show signs of veteran leadership with the other cast members?
He did. I worked with Caleb on The New Edition Story and they had to learn all these steps. The rehearsals were grueling. So I knew his work ethic was amazing but you can either play ball or you can't. And he came to the audition balling. That was such a blessing for us to have an actor that was that formidable, who could really pull off the emotional scenes, really understand the tone of what that character was, and be able to play ball, legitimately.
What I watched develop was an exchange between the guys, which made me feel this is exactly why the universe has us doing this. Sometimes Mookie and Scoop would be a little self-conscious. So I would see Caleb say, "Hey man, when he says this, this is what the director means." He became a leader in that way for sure.
And when he was playing ball, I'd see him talk to Scoop or Mookie. They'd go, Listen, you're the guard. We had these things choreographed, but he would go to them for council. So it became this group that just was exchanging information and trusting each other. [Caleb] was a big leader in that.
As a hooper, I gotta give props because the basketball looked authentic. Sometimes basketball films don't do that—they try to tell the story.
Thank you. I wanted to build from them being little kids and the way we saw basketball from a rudimentary skill level to as they advanced, basketball IQ grows, they play above the rim. Once again, you can't skip steps. We wanted to tell a story through basketball.