Ty Hunter doesn't believe in fashion rules—he's been breaking rules his entire life—but he says that every man needs one thing in his wardrobe: a sharp black suit.
"You can't go wrong with a nice black suit; it's for every occasion," says the 50-year-old fashion maven. "Simply by switching out the shirts and the ties, you could dress it up or down. It's just the perfect thing to have." Don't worry, he won't judge you if you can't contort the perfect half-Windsor knot. "Even though my name is Ty and I feel like you should learn how to tie a tie, YouTube can definitely teach you."
Known for his motivational mantras as much as he is for getting celebrities on the best-dressed list, Hunter has been Beyoncé's go-to stylist for more than two decades, as she's evolved from a girl who shopped at Houston's Galleria mall to the Met Gala. He styles red carpet risk-taker Billy Porter and worked with President Barack Obama on My Brother's Keeper, an initiative to address the persistent opportunity gaps boys and young men of color face. And five years ago, he partnered with apparel brand Reflex to launch an athleisure line of his own. His life story away from the spotlight is a journey rife with setbacks and triumphs, from which we could all draw inspiration.
With the memoir Makeover from Within: Lessons in Hardship, Acceptance, and Self-Discovery recently hitting bookstores, Ty chats with LEVEL about growing up as a young queer man in Texas, the silver lining of being shot, the chance meeting that led to his enlistment in Beyoncé's cabinet, and the power of facing your fears head on.
—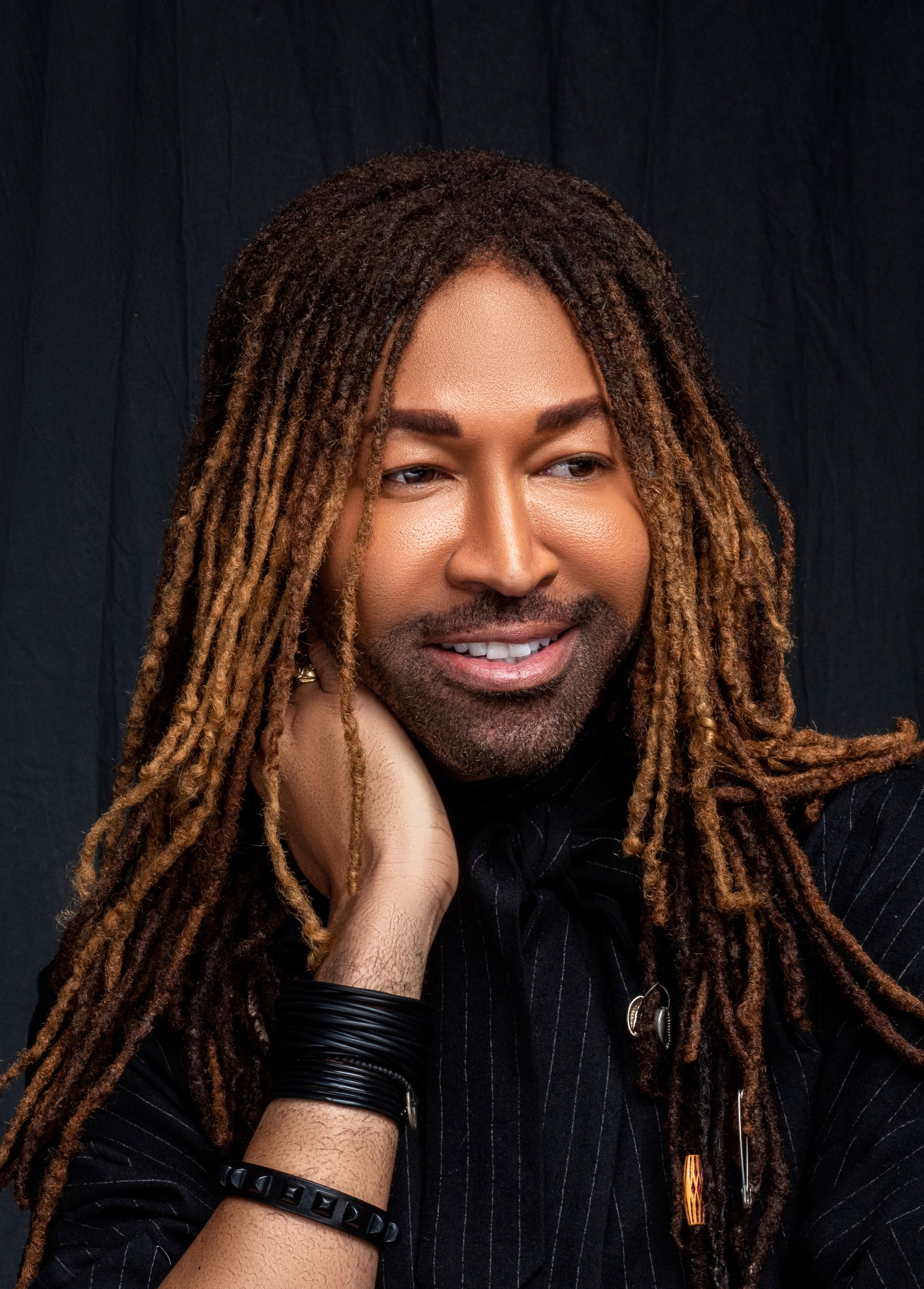 —
LEVEL: What was the moment you realized you had a penchant for fashion?
Ty Hunter: Growing up, I always hated blending in. It was like everybody was so into the trends. If I did do something that was part of the trends, I would be disrespectful with it and just like, rip it up or do something else to it to make it my own individual style. I always went against the grain. Like if, if it was a white party, I'll be rebellious; I'll wear all white, but I'll throw some gold in there or something.
My mom was a single parent and she did her best. She gave me whatever I wanted but she would put things in layaway if it was something I really wanted that was expensive. And I did a lot of thrifting and vintage shopping with my grandmother and my great-grandmother. Playing with different fabrics and different textures came from thrifting with my grandmother and my great-grandmother.
You were surrounded by a tribe of women. As a child, who were your fashion inspirations?
Women like Diana Ross, Diahann Carroll, women like that. As I got older, I would go buy a women's blouse or a blazer or something because I felt like the hotter stuff was made for women. And so I kind of got away with playing with some women things but, you know, I still made sure that it had a masculine kind of appeal to it.
And as far as men, Michael Jackson and Prince, of course. On MTV, I would watch Bon Jovi and Mick Jagger and Bruce Springsteen and all the guys that weren't afraid to play with makeup, play with their hair and with fashion. So I did learn to mix a little bit of the rock and kind of make it my own.
Was it hard growing up in Austin, Texas as a young gay Black man?
Texas was small-minded. As big as the state is, at the time, it was very small-minded. The whole mission was to get out of there. I stood out everywhere. But I didn't care. I got used to the attention of standing out and being different. I just walked in it, you know what I mean? There were times where I'd go somewhere and people that were ignorant might say something, call me gay or laugh or something like that. But I stood in it so well with so much confidence that it became my signature. And it got to a point where people were asking me to help them get dressed or paying me to go school shopping for them and stuff like that.
How did you garner this inner self-confidence? Most young people desperately want to fit in, not stand out.
It got to the point of learning to pretty much accept myself. It took a while. It took getting teased and learning to ask: What really makes me happy? And so when I learned to just look in the mirror and say, "Are you good? I'm good if you good." I don't know exactly what triggered it, but I can say that when I learned to accept me for me, I got more love and compliments than when I would try to blend in.
When you were a kid, your father took you to a Diana Ross concert that marked an important moment in your relationship and his acceptance of you. Tell me about that.
It meant so much to me because that day changed my life forever. To see all the glamor, the hair, the feathers, the sequins. To see a Black woman so beautiful and so glamorous was rare.
My dad is a man. Like, a real man. He lived and breathed sports, and I was so anti-sports. I would try to do little things like run track to please him but I was so not into sports. When I wrote this book, it was a therapy session. I realized this moment was him bonding with me.
---
It's just a beautiful thing being a parent. To have a daughter's love and being a Black gay man? It's the best thing ever.
---
You suffered a life-altering experience in your twenties when you were shot in a case of mistaken identity.
I'm glad it happened, which I know that's crazy as that may sound. I was going to a place where they have shootouts and fights every f**king weekend. It's like, Why are you going to this place where you know something is gonna happen? It taught me that you could be the nicest person and the good guy in the group and things still happen. A bullet don't have no kind of name on it.
You feared that you wouldn't be able to have kids after the gunshot wound but you unexpectedly became a father the next year. How has being a father to a daughter changed you?
That's the thing that made me say, You need to get it together. To actually have someone love me unconditionally, it's the closest thing to mother's love. And it's just a beautiful thing being a parent. To have a daughter's love and being a Black gay man? It's the best thing ever.
Your career in fashion took off after meeting Beyoncé's mom. Take me back to the Galleria mall in Houston where it all began.
I was working at this store Buiyakah and at the time Destiny's Child had "No, No, No" on the radio. Miss Tina walked in the store and I just went up to her and helped her. And we clicked. Every time she would come in, I would help her. Years go by, and I'm working at the Bebe store. Miss Tina would gimme little tests. Like, once they lost their luggage for an award show and I had to get together some dancer outfits and make sure they were FedEx'd overnight. Miss Tina's like, "I'm gonna get you outta here one day." Then one day, she brings by the whole group, including Beyoncé.
Your first styling job was Destiny's Child's "Survivor" music video. What was your relationship with Beyoncé? Did you immediately click or was it a gradual process?
I can't say it was immediately. Miss Tina was like a mother figure and I just wanted to be a sponge and soak up everything I could. There was a comfort zone; we were just country people from Texas growing together, learning the game. And so we all just grew together and it was just a beautiful thing. It became just literally me dressing sisters. And you know, I wasn't stressed and worried like my peers on what the next gig is because my loyalty to them and their loyalty to me was so strong. I didn't have that stress of wondering when my next job or paycheck was gonna be.
At this point, every designer from Givenchy to Armani has dressed Beyoncé. There's no problem getting clothes but were there challenges in the beginning?
We stayed in fabric stores. We stayed at trimming and just kind of laid out things and created because at the time we couldn't even pull clothes from designers. Before the internet, I remember I used to have to carry a phone book and I would call the most expensive hotel in town. I'd call the concierge and act like I was staying in that hotel just to get some kind of resources 'cause we didn't have Google.
At this point, you've styled for every red carpet, magazine cover and milestone. What's it like getting older in this industry? Is the thrill still the same?
Well, it is definitely different as far as the whole styling part and the whole fashion part. [Laughs] Of course, there are times where I don't want to be in this spot 'cause it is so different but I am inspired because it does get greater later. You know who you are and you know what you will tolerate and you know what you will take. You learn to say "no." It's not about the money. It's just you. You just move differently. We are living in different times and everything is instant with social media. But the whole sacrifice and the foundation that I feel that a lot of us from the past have built, I'm starting to see the recognition being given.
President Obama once asked you, "Where do you go from there?" How would you answer that question today?
I've already started working on the second book! I wrote two TV shows and I'm doing some handbags that are coming out next year. I'm just constantly going. I'm going to be more in the forefront instead of being behind the scenes. And keep taking on challenges. If I'm afraid of it, I'm gonna do it.