On a breezy November night, a sold-out crowd in Manhattan's Hulu Theater at Madison Square Garden is losing its shit. The event's marquee acts are preparing to take the stage, and everyone is on their feet, many raising phones in the air to capture the epic entrance. Smoke plumes. Pyrotechnics blaze. Blaring from the speakers is Nas' 1999 classic "Hate Me Now"—the music video for which features a fur-clad Esco jostling through a nightclub alongside a belligerent Puff Daddy. However, the two men who step on stage donning minks tonight are neither Nas nor Diddy—in fact, they're not rappers at all.
The people are here to see Rashad Bilal (38) and Troy Millings (40), better known as the co-founders of the financial fluency brand Earn Your Leisure. What began as two childhood friends setting out on a mission to educate young people on personal finance has grown into a massively popular eponymous podcast—the flagship of its own network—as well as the online subscription learning portal EYL University, a TV series on Revolt, and in-person conferences and recordings like the one taking place here at the Garden.
Tonight's festivities are branded as a live taping of Market Mondays, a spinoff podcast that is hyper focused on making money in the stock market and also features Ian Dunlap, a highly successful investor from Houston. Elsewhere on the bill is real estate tycoon Don Peebles, undefeated boxer Floyd Mayweather Jr., and special guest performer Jadakiss. The lineup is a microcosm of Earn Your Leisure's not-so-secret sauce: A mashup of major-key financial education funneled through hip-hop culture, language, and aesthetic. Perhaps the greatest flex pulled off by Millings, a former physical education teacher, and Bilal, a financial advisor, is helping to make investing, entrepreneurship, and money matters sexy at a time when it's as crucial as ever.
We wanna make sure we're providing the best information and are as transparent as possible so our audience can understand it. We knew we were able to give information in a way that it hadn't been delivered before. —Troy Millings
This is not a one-night-only affair, either. Weeks earlier, Bilal and Millings—whose mantra and ethos is "assets over liabilities"—put on a similar production in London. Their second-annual InvestFest, which took place in Atlanta back in August, featured business partner Steve Harvey, Rick Ross, Charlamagne Tha God, and Tyler Perry on the bill, and drew a reported 14,000 curious and entertained attendees. Earn Your Leisure is more than just on a run—the brand is in a full-on sprint to establish itself globally, replace the de facto (White) faces of finance guruship like Jim Cramer and Dave Ramsey, and hopefully help you taste some wealth of your own in the process.
It's for all of the reasons listed above that LEVEL is crowning Rashad and Troy as the 2023 Entrepreneurs to Watch, and the stars of our Winter '23 digital cover. Following that knowledge-packed night at MSG—and weeks of media stops, podcast appearances, and speaking engagements in various cities—I phoned in to speak with them at their Westchester studio to discuss the Earn Your Leisure explosion, meme stocks, memes about LLCs, and economic trends to watch in the new year.
—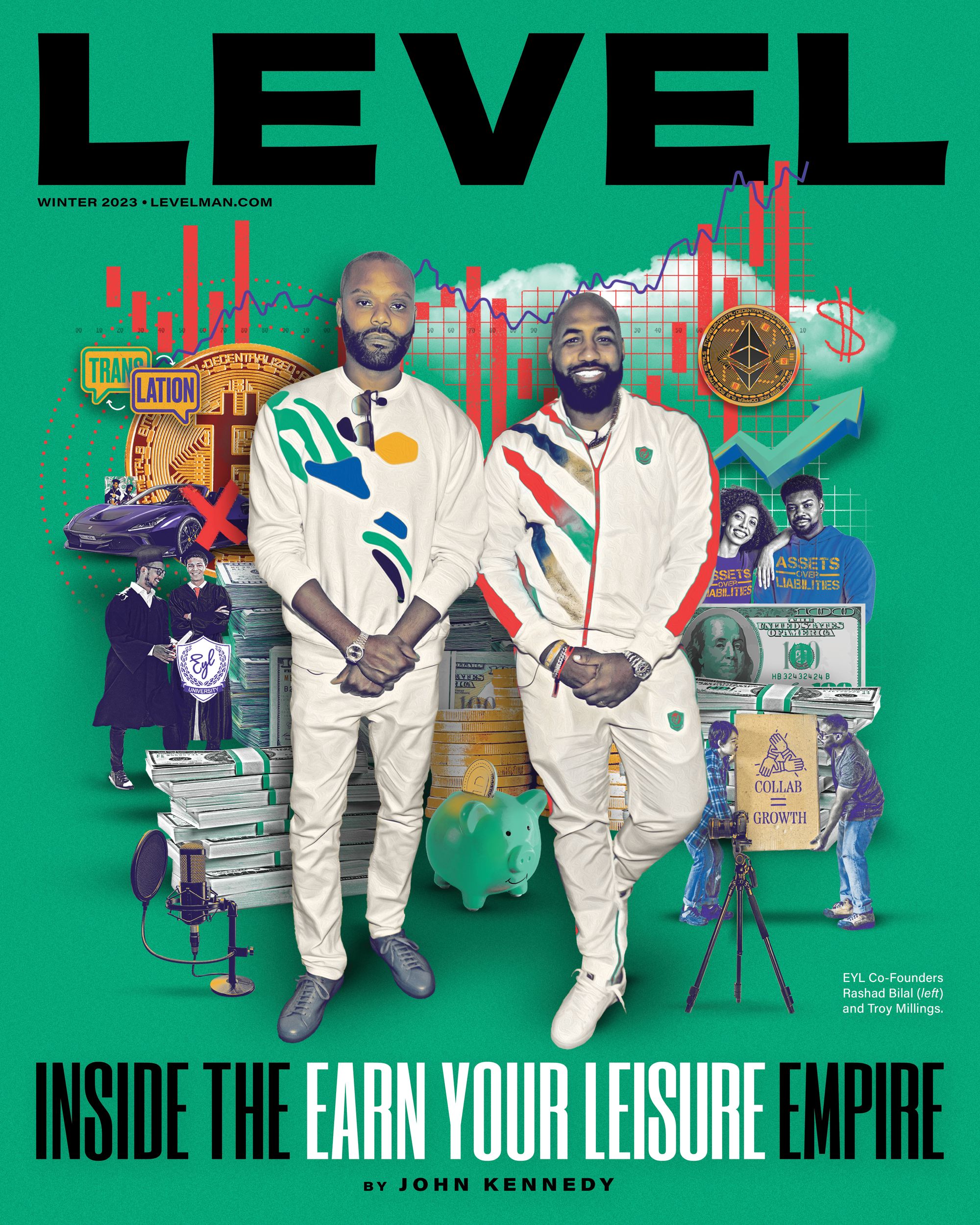 —
LEVEL: Explain for me the feeling of being two kids from New York who started a podcast based on financial education that has grown into a global brand that has sold out massive venues in London, Manhattan, and Atlanta this year. That sounds surreal.
Rashad Bilal: It was definitely a moment. Everything we do I feel is an opportunity to make history, 'cause it's never been done before. London was an experience within itself because that was our first international event of that magnitude in one of the most prestigious venues in the world. When you go to Royal Hall, the history is so rich. That's where The Beatles performed, Adele, Muhammad Ali. It's just so much history, and it's a beautiful venue. To be there and have 4,000 people—majority Black Brits hungry for financial literacy, hungry for good representations of themselves—that energy was amazing.
Then, like you said, coming from New York it's a dream and an honor to be at the Garden a couple of weeks later and sell that out as well. Just seeing the name on the billboard a was very big moment for what we represent as far as financial literacy, the culture, New York City, everything. It was a very humbling experience.
Troy Millings: Surreal is the word. And humbling. We're talking about prestigious venues, and the reason we're there makes it even more gratifying. We're not doing it because we can shoot a three-pointer, box, or wrestle. We provide education. It's very rewarding. Our community is in need of it, and the fact that they show up in droves speaks to how far impact can go.
I'm sure you never imagined this when you started out, but at what point did this become something you could see for yourself?
MILLINGS: Now that we look back—he comes from a career in finance, I come from a career in education. Those two things together make perfect sense when you talk about financial history, teaching, and understanding finance. Did I see this vision long term? Not when I was teaching. I knew I wanted to educate and what was being taught wasn't going to be applicable for the students I was teaching, which was why financial literacy became something I was like, I gotta be passionate about this 'cause this is going to help them out in their future. When I told Rashad about it, it was like, let's just scale this program and help as many young people as we can. Then we realized there's no age limit to learning. Young adults needed it, their parents needed it, their grandparents needed it. And so now we expanded to something that has no boundaries.
BILAL: This was the year of expansion in every aspect. From InvestFest having 4,000 people last year to 14,000 people this year, to doing our first international event, to doing Madison Square Garden—everything got amplified this year. We've been able to spread the message of financial literacy from niche pockets of people to becoming more and more mainstream.
If you Black from America, you already know the odds is stacked against you. We're used to that. My guy Derrick Faulcon always say, "If you Black, you gotta go outside with an umbrella even if it's sunny, 'cause anything can happen." —Rashad Bilal
Tell me about the podcast's early days. Was it a process to find your voice, learn your interview style, and develop it into what it's become?
MILLINGS: There were things we had to learn, but we have a natural chemistry. We grew up together. We pretty much talked to each other every day—there just wasn't microphones around. In the beginning, it was just me and him. Finding our voices, our balance, our cadence, the information we're going to present, how to record—that takes time. We wanna make sure we're providing the best information and are as transparent as possible so our audience can understand it. We were super intentional about that. We knew we were able to give information in a way that it hadn't been delivered before. When we're sitting down with somebody, the way we interview, we're asking questions 'cause we want to know. But we have a general background in the area and study the person before they even come on.
After launching in 2019, did it feel like there was a tipping point for Earn Your Leisure? A point where people became more tuned in?
BILAL: It was just a snowball effect, honestly. Once we started, we had momentum. We just kept working and it kept moving. But Covid was pivotal. We doubled down on content when everybody was at home. We created another show called Market Mondays, which is very successful. So Covid was definitely an accelerator. Steve Harvey gave us a lot of mainstream appeal. People all over the world watched that interview—that's our biggest to date, very pivotal.
The biggest finance story during the pandemic was the meme stock frenzy led by GameStop. What role did Earn Your Leisure play in helping investors navigate that wild time?
MILLINGS: We played a couple of roles. When we talk about meme stocks, we're really talking about retail investors. In 2020 and 2021, the number of retail investors had increased—especially in our community—by 60 percent or something like that. In times of uncertainty, education becomes paramount. When we were talking about the stock market and how to invest on Market Mondays, people were gravitating toward it. The market was so low, everyone was making money. And what happens when you help people make money? They come back for more and they tell their friends. That helped elevate us. We always stress long-term investing and not just looking at short-term trades as the way to build portfolios. So having retail investors being in the space, but also them having education around what a meme stock is, how it could be very volatile, and how you could lose money very quickly. That was vitally important, too.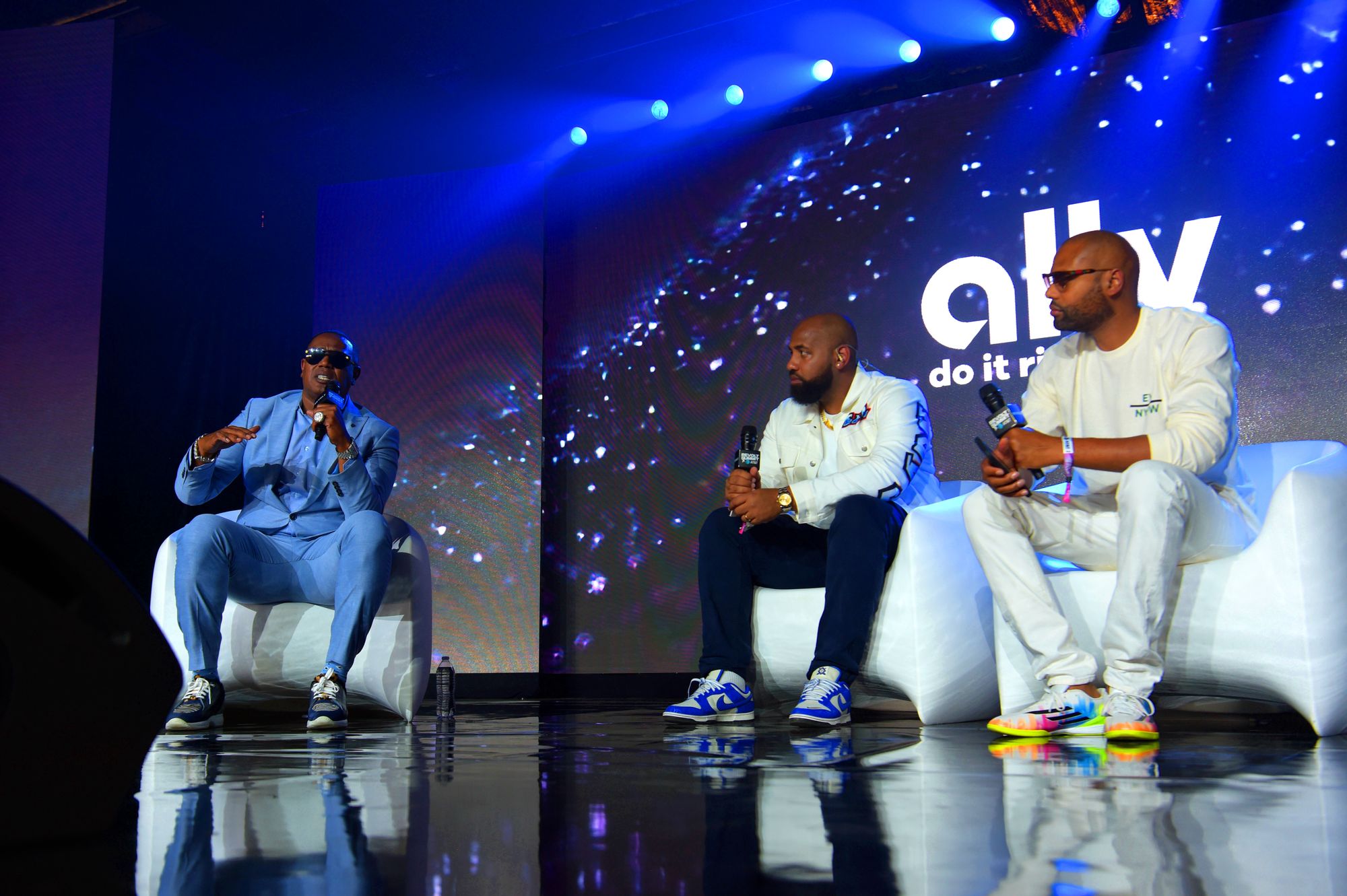 —
Do you think we'll ever see another craze like that or does that feel like a once in a generation kind of thing?
BILAL: It's definitely possible. A lot of different factors came into play: The stock market was going up at a tremendous rate, the government had put so much money in the economy, we hit a bottom and then skyrocketed in a very short period of time. It's hard to predict what will happen in the future, but it's possible, for sure. A lot of things have to happen for that to happen again.
Keep it a buck: Have either of you ever fell for a get-rich-quick scheme? A case where you jumped into something you thought was easy money and it just didn't pan out?
BILAL: Not necessarily a get-rich-quick scheme, 'cause it's legitimate if you know what you're doing, but I lost a lot of money in crypto. It was new at the time and I rushed into it and didn't have a full understanding. You make some money and then you think it's a magical machine that's going to keep printing money for you. So even if something is legitimate, a lack of education can hurt you. Stocks, real estate, whatever. It's not even that it's a scam a lot of times. It's just that you don't have a full understanding of what you're doing. Treating it like gambling when you don't understand what you're doing, you're going to lose your money most of the time.
MILLINGS: Yeah, the crypto space in late 2017 probably would probably be the best example. Like, we're about to be millionaires in the next month. [Laughs]
I made some and lost a lot more in that. But how do you learn from those mistakes without getting discouraged altogether? Some people might take a loss on investment as more reason to revert to keeping money under the mattress.
BILAL: You become more careful, and vet things better. Have a higher level of understanding before you invest in things. Learn not to move off emotion. Once you've researched, you feel a lot more confident. It's a different situation as opposed to rushing to try something spur of the moment.
How did you each develop your own foundational knowledge about finance?
BILAL: Since I was a little kid, I was always interested in money. Always interested in the stock market and business. So I just kept learning from a young age. Reading books like Rich Dad, Poor Dad helped a lot—I read that when I was 18—and different stock books, books about real estate, books about business. Starting a career as a financial advisor accelerated my growth even more. I did that for 12 years before doing this. So pretty much from 10 years old up until now, it's been just constantly learning about business and nurturing it.
MILLINGS: My journey started in adulthood because I'm rooted in education. We were trying to teach kids about finance—I gotta learn about it myself before I can teach it. Same thing we do now. I was fortunate to have him by my side for most of that journey. Rich Dad, Poor Dad was one of those pillars. I remember reading that the day after I got my undergrad [degree] and that just fascinated my mind. Every day I get up and read because I wanna know more.
I don't want to come from that adage, like, "I made it out the mud and so now my kids have to go back to the mud to figure it out themselves." Our kids are growing up with a safety net, but that's why we work hard. My thing is, you try to teach 'em lessons, teach 'em the value of hard work. You lead by example. —Troy Millings
Let's talk about fatherhood. There's this classic dilemma—one that was central to the Black-ish storyline—about growing up struggling, making enough money to live comfortably, and then trying to raise Black children who don't take things for granted and understand what it took to get there. Have you two thought about how that factors into your parenting style?
MILLINGS: It's something I quite haven't figured out yet. There is a dilemma there. I don't want to come from that adage, like, "I made it out the mud and so now my kids have to go back to the mud to figure it out themselves." Our kids are growing up with a safety net, but that's why we work hard. My thing is, you try to teach 'em lessons, teach 'em the value of hard work. You lead by example. You demonstrate what work ethic looks like. Hopefully they see that and it translates. So it's a challenge. Our kids have very high ambitions and aspirations and their wish lists of things keeps increasing as we keep becoming more successful. The other day, I told my daughter I got her a surprise. Her response was, "Daddy, did you buy a yacht?" I'm like, "What? No, I got you front-row tickets to see Mariah Carey." She was like, "Oh. Well, can we still get the yacht?" [Laughs] Their concept of reality is just different, man. It's learning in progress.
BILAL: I'm not really a traditional parent. I didn't grow up in a real strict environment. My mom bought me a lot of clothes, even if it wasn't the most responsible thing at that time. Playing basketball was my main focus. I just figured out what I wanted to do. For my son, it's the same thing. I don't wanna force too much unnecessary hardship on him, 'cause there's no need to. He'll be able to figure things out for himself. All I can do is give him guidance. I think he sees the example that's being set. It's up to him to see where he wants to take it. It's his life. It's too much pressure that parents put on themselves to make sure their children turn out a certain way. Who knows how this thing is going to work out? Whatever he wants to do with his life, I'm sure he'll make the right decision.
As far as trying to make him work for things, it's beneficial, but it is not necessarily reality. Some people's reality is different from other people's reality. It's impossible to make somebody appreciate things they didn't have to work for—it was just given to them. That's crazy try to reverse-engineer that. It's like having a prince understand what it's like to be a servant. The prince is never going to understand what it's like to be a servant, but the servant is never going to understand what it's like to be a prince either. Neither one is better than the other, it's just the circumstances that they were born with.
Sounds like your kids get the best of both worlds—the Nikes and the Nike stock.
MILLINGS: In terms of stocks, that's all year. We have custodial accounts for our kids. What we're doing now—especially with my children—is making them more aware of the money they have. They can look inside their accounts. They have debit cards. My eight-year-old son can go to a store and understand how you pay from his account. But they still enjoy simple things. He's into toys, so I try to teach him the difference between a toy that can appreciate and [one that would] depreciate. This thing he wants is $170, but when you realize the rarity of it, I'm like, Here's a way to teach him. You let them be kids and still figure out what ways you can have learnable moments.
BILAL: My son, he's very similar to how I grew up as far as what he's into. He plays sports—looks like he's going to be a pretty good athlete. And he's into fashion, so he's asking me for Gucci glasses. You can't run from it, 'cause it's an environment we created. He watches me on Instagram going to Fashion Week and it's like, I want to do what he's doing. The fashion thing is becoming expensive—especially sneakers.
Lil Wayne ain't the only one stuntin' like his daddy.
BILAL: I was actually just talking to my lawyer about estate planning or creating a trust and having him as one of the beneficiaries, structuring that, seeing how that looks. He might not be fully aware, but a lot is in place for him. Just gotta educate him. That's what we doing now—both investing for the kids but giving them some material stuff as well.
Speaking of establishing wills and trusts, at what point should people start getting serious about that? Is it after having a family, or beforehand?
MILLINGS: I'm going to give him his flowers right now. I never thought about being older until [Rashad] sat down with me when I was 25 and said, "You need to get life insurance." Most people at 25 are thinking, Why do I need life insurance? But the reality is we not going to be here forever. After sitting down with him, I was like, What happens when I have kids? When I'm married? I should prepare for that while I'm younger, healthier, and can afford to do it. That's where it started for me.
BILAL: Everybody's path is going to be different, but as early as possible. And you don't have to do every single thing at one time. You could start with opening an IRA and putting money into a 401(k). Then get life insurance. Get a will. Get a trust. You don't have to do every single thing when you're 22 years old, but start to think on that level. As you start to make more, as your life changes, you're already in that position. That's vitally important as soon as you become an adult.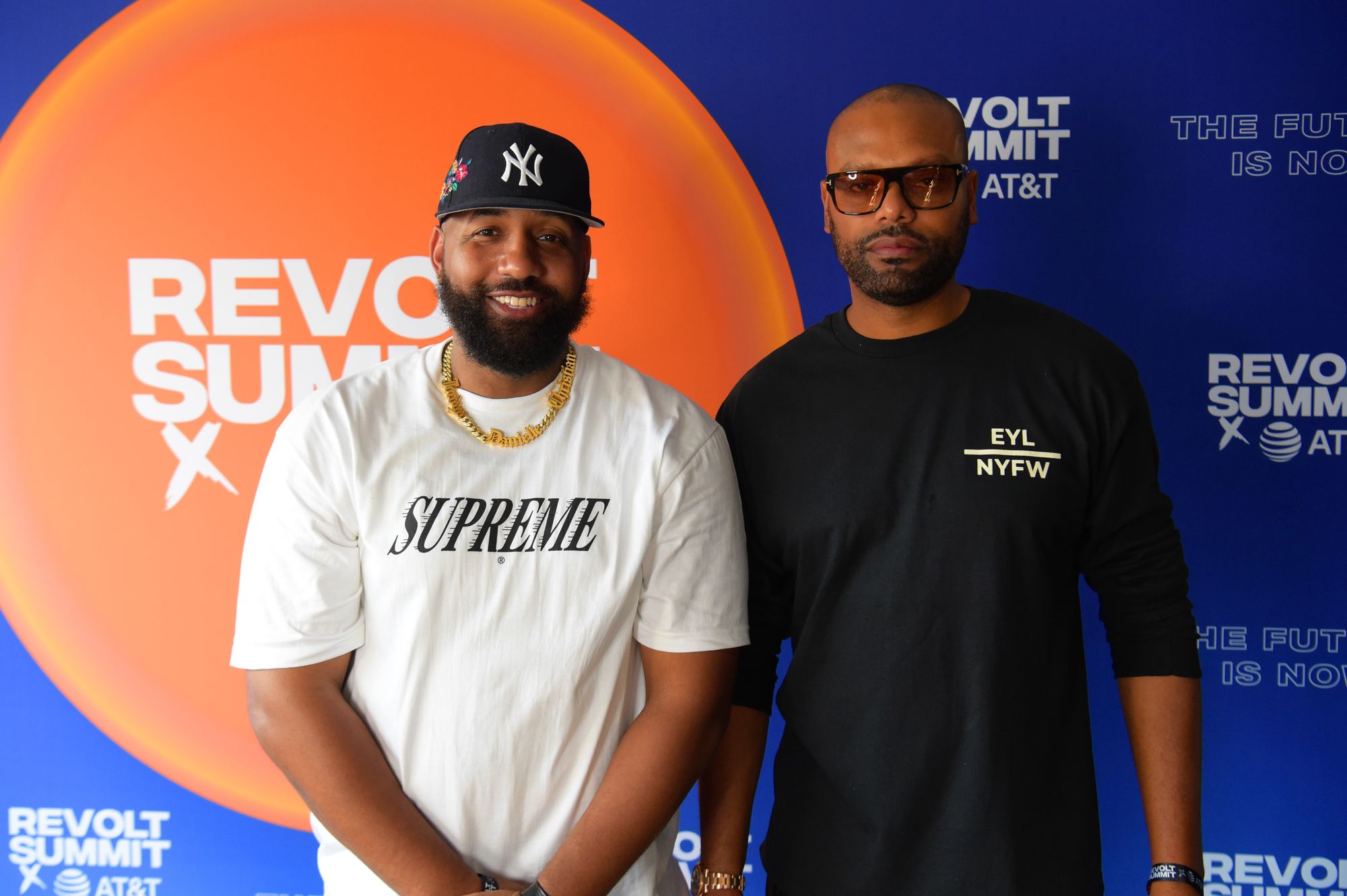 —
As you've moved into new spaces, how has racism factored in your journey? Or have you found that the only color that matters is green?
BILAL: There's different levels of racism. It's not necessarily people disrespecting us in our face, but there's differences you don't even pick up on. Like, a white person is doing a festival and they get $8 million in corporate funding and 30 different corporations funding their product. [Meanwhile], they don't even have a thousand people. And we do InvestFest and got 14,000 people and we struggling to get a few corporate sponsors. The only difference is one person's white, one person is black. That's a different level of discrimination that you really can't pinpoint.
But this is important 'cause it's these budgets that's impacting people to have more jobs and economic empowerment. The more money we make, the more money we spend with other Black businesses. That creates a ripple effect. Stuff like that in deal structure and corporate budgets, for the most part that's what we see. Not necessarily racist people in your face like it's 1950. That could still happen as well, but it's more so on a higher level.
MILLINGS: There's more barriers the higher we go. From a personal standpoint, being in the real estate world and having the appraisal process go wrong. Now I see the news covering times where Black home ownership gets devalued when they realize who owns the home. So at every level, you are going to face something. But it goes back to what did we learn and how do we maneuver around this? We're breaking barriers every time we go somewhere, because we're setting a new standard.
Does it ever affect you in a discouraging way, or do you just keep it moving?
BILAL: What's your alternative? If you Black from America, you already know the odds is stacked against you. So we're used to that. My guy Derrick Faulcon always say, "If you Black, you gotta go outside with an umbrella even if it's sunny, 'cause anything can happen."
We gotta make the best out of the situations we have in front of us. We've been able to do that. But it could be worse. No matter how hard it is for us now, it's still a blessing to be alive at this point in time and to be in this country. America—there's so much opportunity. There's a lot of things wrong with this country, but it's still probably the most opportunity that you have in this world. [The fact that] we can start a company in a couple of years and rise to the level we're at right now speaks to that. We play the cards that we dealt and don't complain about it.
Financial literacy is popular and trendy right now and it's important to fact-check information, but we don't wanna follow that same blueprint where everything is a joke. We have to be careful with how we use comedy 'cause it shapes the way we perceive things. —Rashad Bilal
I loved seeing Rashad chime in on the $500,000 vs. dinner with Jay-Z debate that pops up on social media every few months. Your take was about how for someone in your position the meeting could be more valuable than the money.
BILAL: The conversation is interesting because most people only look at it at face value. Obviously everybody's situation is different, but what I'm getting from that is how most people value things. The average person, their number-one goal in meeting Jay-Z or a billionaire is to take a picture. What I'm trying to say is you should always be prepared to meet somebody that can change your life. Because at some point, you're going to meet somebody that's going to change your life. Especially if you live in a city like Atlanta or New York. You could walk outside in L.A. and run into Tyler Perry at Roscoe's. It happens—but are you prepared? Do you have an elevator pitch? Most people waste that moment.
Big Sean's a perfect example: He meets Kanye and he just starts rapping to him while he's actually walking. After 10 minutes, Kanye takes a liking to him. The rest is history. What if he would've wasted that opportunity just to take a picture. Now what's more valuable in that situation, $500,000 or meeting Kanye West? I'm sure he made a lot more than $500,000 throughout that whole situation. That's the whole point, to get people to think bigger.
Relationships are the most valuable commodity that we have. Relationships are worth more than money. And you see that at the highest level. This is why people go golfing for eight hours, because they get a chance to talk and network. These conversations can spark billion-dollar ideas, billion-dollar brands. We have to understand, value, and cultivate relationships more.
The goal is to work to become as valuable as you possibly can so you have something to offer. It doesn't have to be a celebrity. It could be your local real estate developer who's making a killing. When we met Steve Harvey, that helped change our lives, but that was because we had value-add already. We had to work to build up that value-add. Make yourself valuable because people ultimately can push you further than money can. Rich and very wealthy people understand that, that's why they cultivate relationships, pay to get in rooms, and donate money to politicians.
Are you familiar with the hashtag #LLCTwitter?
BILAL: I know exactly what you're talking about. It's where people make jokes about financial literacy. Like, everybody's an expert.
Yeah, but I believe it started due to some people offering sketchy and often condescending financial advice on Twitter and Clubhouse during the early days of the pandemic.
BILAL: Yeah, during the pandemic, financial literacy was at a premium. Whenever something's at a premium, it opens the floodgates to every person that wants to be in the space. Some people are qualified; some are not. That's going to happen with anything. There's a million people that have the best diet plan, the best workout plan, the best idea for reparations. Everybody's going to have their own opinion. The good and bad thing about social media is anybody can have a platform. There's no qualifications to be able to speak.
MILLINGS: The reality is everybody's financial health is going to be determined by them. You can get information but ultimately you have to make your own decision. There's no guarantees in investments. We can take advice. We can take information. But when we do our own research and break down our own values and goals, that's when we ultimately have to figure out where we're going with our financial situation.
BILAL: I see the jokes every once in a while. Comedy's always—it's always lighthearted. But we have to be careful. Look at black empowerment during the '90s: Every skit turned masculine Black men into a joke. In Living Color, all of these shows. Looking back on it, you made it a joke to be a positive Black man. And what's the alternative, to be a negative Black man? We don't understand what we are doing. That's actually extremely detrimental because the people that's trying to enlighten us, we're making them a caricature, a laughing stock. So now nobody wants to fill that role anymore because they're embarrassed. By embarrassing one person, you have to uplift another. So you embarrassing one end of the spectrum, but then that's when gangster rap got uplifted. And you see a rise in gang culture, a rise in violence. Songs like "Unity" and "Fight the Power" decrease and other influences start to increase.
Financial literacy is trendy right now and it's important to fact-check information, but we don't wanna follow that same blueprint where everything is a joke. 'Cause then you go back into the same habits that you were in before. You start spending money frivolously thinking, "Investing is a joke. Having a business is a joke." But it's like, nah, that's really not funny. So we have to be careful with how we use comedy 'cause it shapes the way we perceive things.
It's like what Denzel said [in American Gangster]. Earn Your Leisure—if they know that, even if they don't know us, that's how you really can really quantify the impact. —Troy Millings
What are some of the economic or financial trends you're watching for 2023?
BILAL: AI is very interesting. I learned a few things this week about artificial intelligence. I'm going to do a lot more research on that. And then monitoring Web 3.0, seeing where we're headed with the metaverse. A lot of people are not talking about that right now, but it doesn't mean it's dead. There's still opportunity there.
MILLINGS: The general economy—the recessionary environment, how long is that going to last? China reopening, what does that mean for the global economy semiconductor? Supply chain issues. The infrastructure bill getting passed. The EV space. There's so much, man. We always have something to talk about because something new happens every day, especially in economics and finance.
When it's all said and done, how far do you think you can take Earn Your Leisure and what do you want its legacy to be?
BILAL: Global reach, global empowerment, global brand of financial literacy and business. Taking the company public and becoming a household name. Being a trusted source. And establishing one of the top media brands in the world.
MILLINGS: We're setting ourselves up nicely to make sure that we fulfill that promise. And the beauty is people get to watch it. They got to watch us on our iPhones in 2019 to us in Nigeria in 2021 to us in the UAE in 2022. Get ready for 2023.
BILAL: You'll see more global efforts in Europe, Africa, Asia, the UAE. And expanding the diversity of content. You might see a movie, you might see a book, a show that we produce about travel or cooking. Becoming more diverse with our portfolio of our offerings. It's a lot that we have planned.
MILLINGS: Look at Disney. Look at Turner Broadcasting. [These are] legacy brands that's 50, 100 years old with different CEOs and people that have different visions taking it to different levels. That's it right there, man. Legacy brand. It's like what Denzel said [in American Gangster]. Earn Your Leisure—if they know that, even if they don't know us, that's how you really can really quantify the impact.