12. Donda (2021)

Dedicating his 10th studio LP to his beloved mother, Chicago's most complicated hip-hop star kept things simple with the artwork: a plain black square, no different from those that infamously graced social media in June 2020. One can dream up deep meanings or make their own assumptions about Kanye's intent. But bottom line: This cover is aesthetically dull. More interesting were the false-start art ideas Ye tweeted in 2020, well in advance of the record's actual release: an infrared composition of three figures hovering over a mountainside and under a blaring sun; and a monochromatic red adaptation of a Louise Bourgeois gouache painting created in 2007, the same year as Donda's death.
---
11. The Life of Pablo (2016)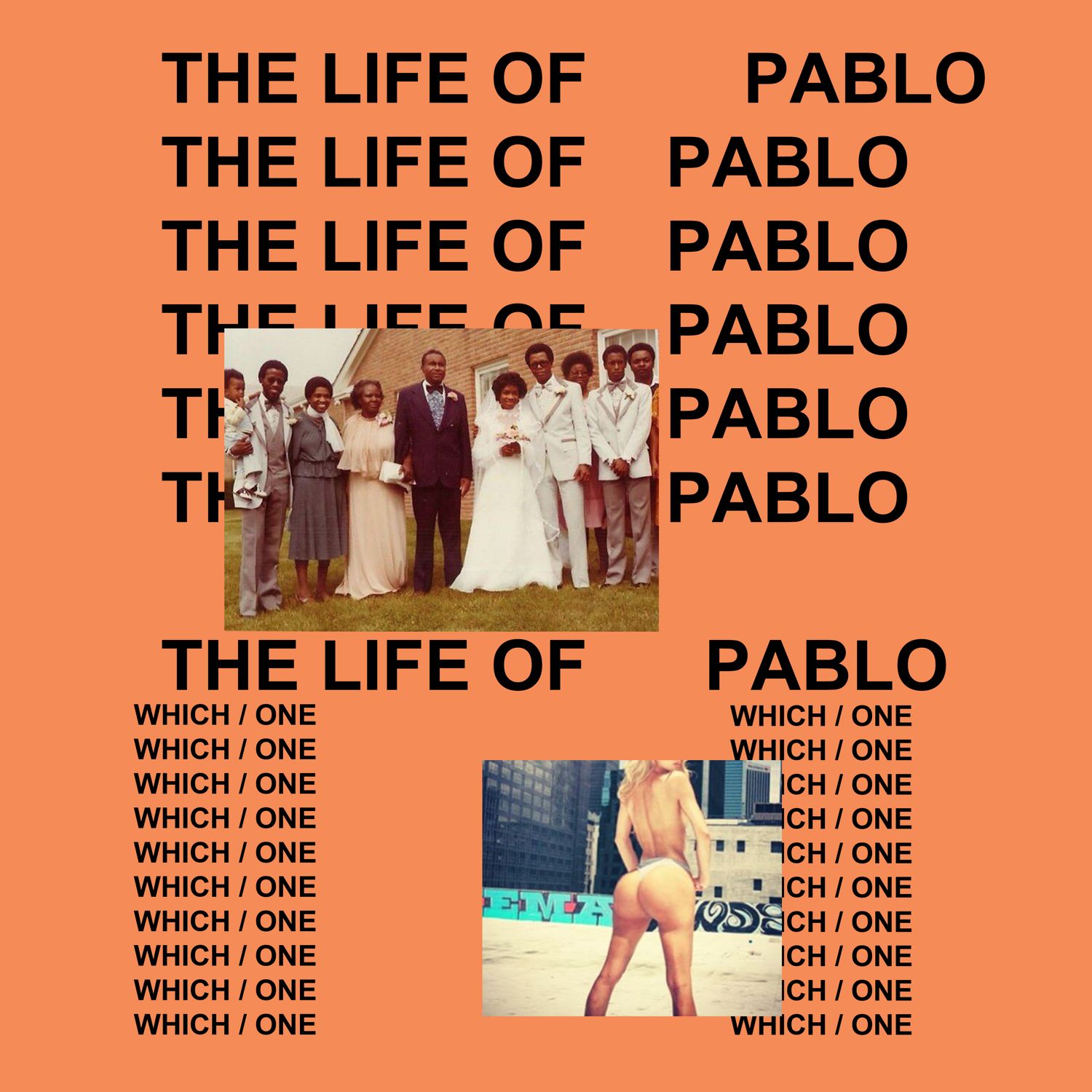 Kanye turned to Peter De Potter to design The Life of Pablo's cover. The Belgian collage artist slapped a wedding photo as well as a 'Gram-worthy butt shot of British model Sheniz Hall (a photo selected by then-wife Kim Kardashian, legend has it) atop a peachy-orange background and the album title seven times over. Is it a slapdash mess, or are you just not deep enough to digest its magnificence?
---
Related: All 15 Drake Album and Mixtape Covers, Ranked
Related: Don't You Dare Blame Kanye West's Anti-Blackness on Mental Illness
---
10. Ye (2018)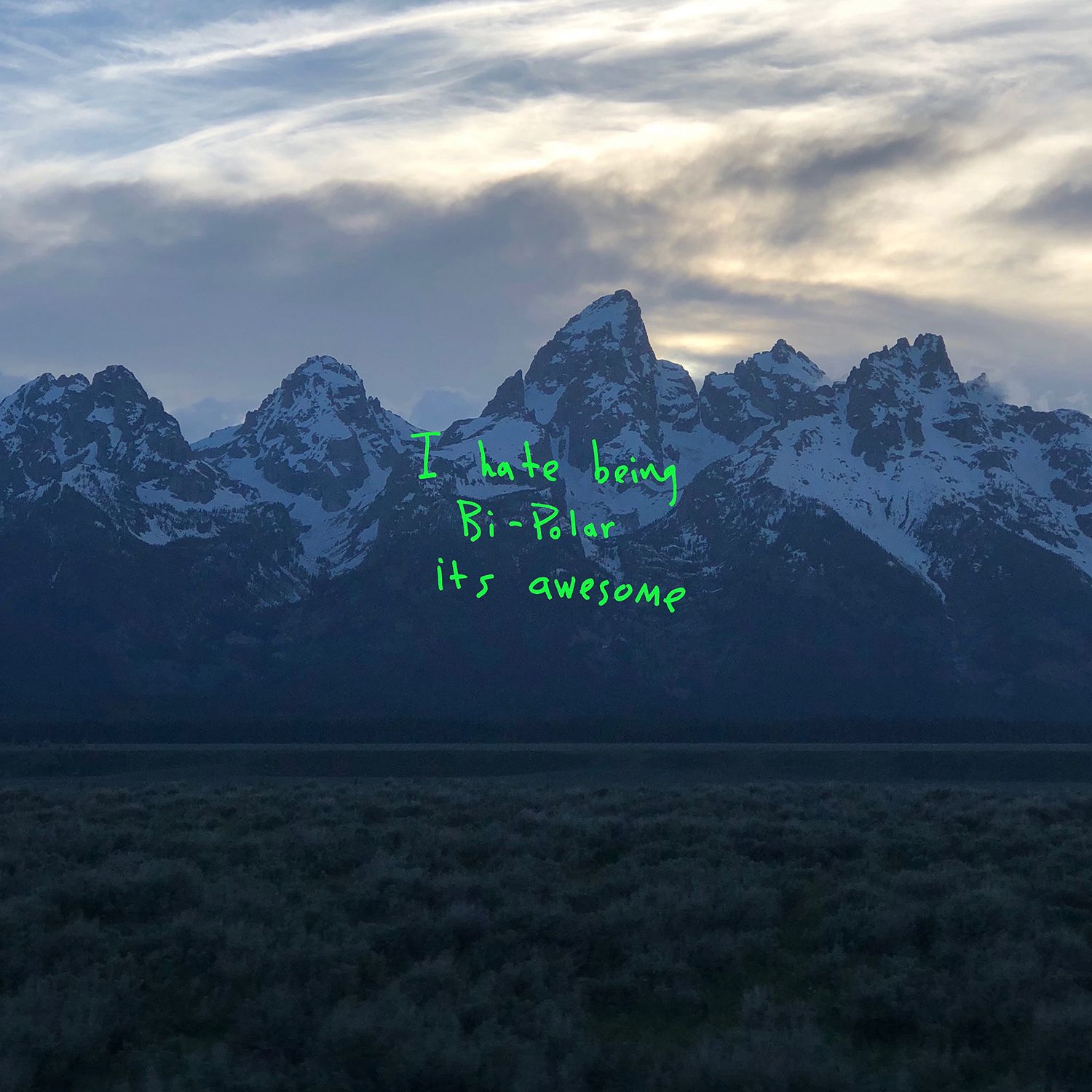 Later-career Ye is nothing if not spontaneous. So, it makes sense that he would snap the cover photo of his 2018 album on his iPhone while on the way to the listening party of that same record. Across Kanye's quick pic of Jackson Hole's mountain range, the artist scrawled the words "I hate being Bi-Polar it's awesome." Get it? (Kanye had previously mentioned that he wanted to use a photo of surgeon Jan Adams, who was operating on his mother, Donda, before she died, as the album's art. Dr. Adams wasn't warm to the idea, though.)
---
9. Jesus Is King (2019)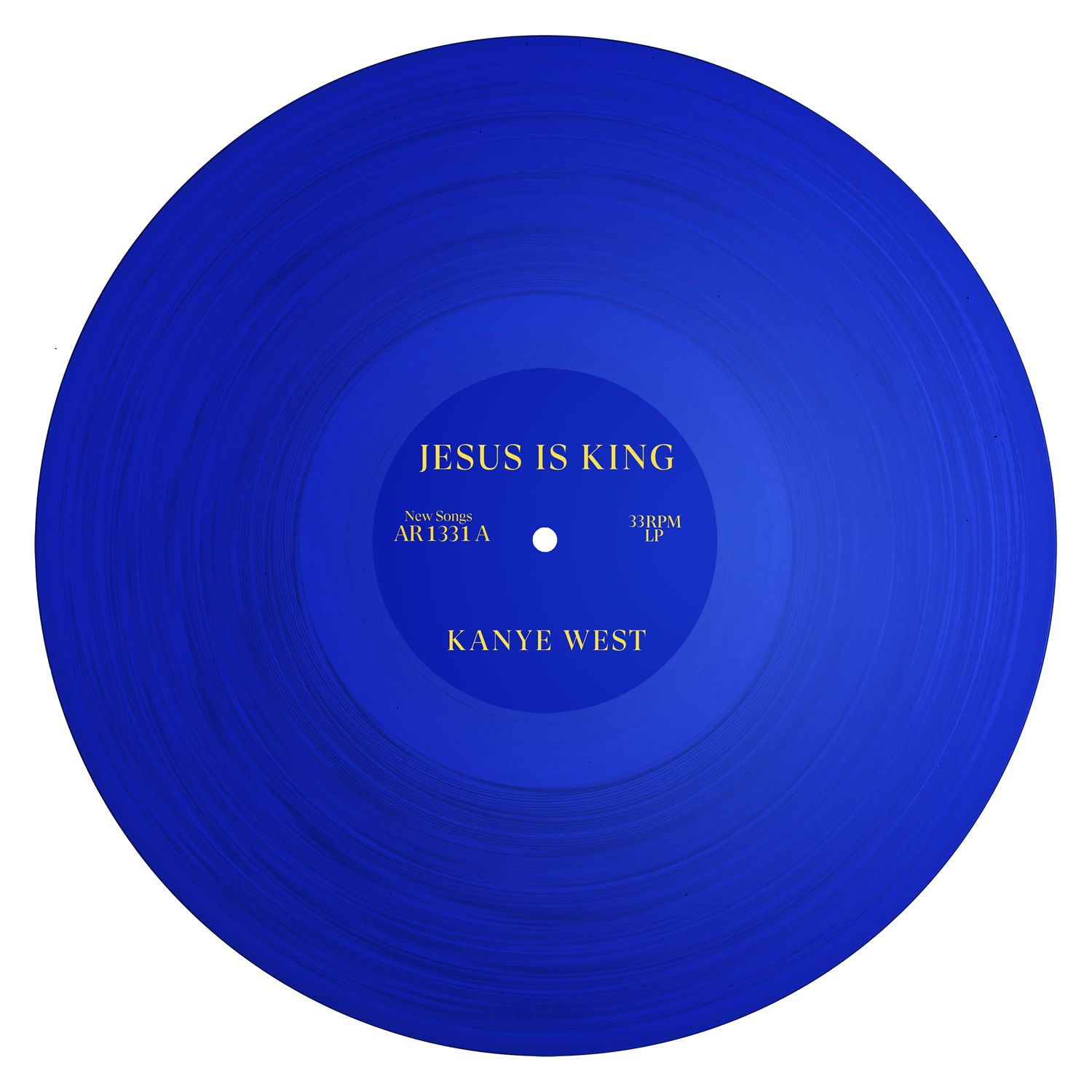 The gold code stamped on the royal-blue vinyl of Jesus Is King—"AR 1331 A"—sparked a scavenger hunt to crack the combination's meaning. Well, Third Man Records co-founder Ben Blackwell solved the mystery. Kanye was cribbing the serial number of an Archer Records (AR) pressing of 1970 Detroit gospel single by Rubye Shelton that included tracks "I Want the World to Know Jesus" and "God's Going to Destroy This Nation." Those songs didn't have any cussing or the most banging beats, either.
---
Related: 10 Years Ago, We Lost the Old Kanye
Related: All 6 Travis Scott Album and Mixtape Covers, Ranked
---
8. Yeezus (2013)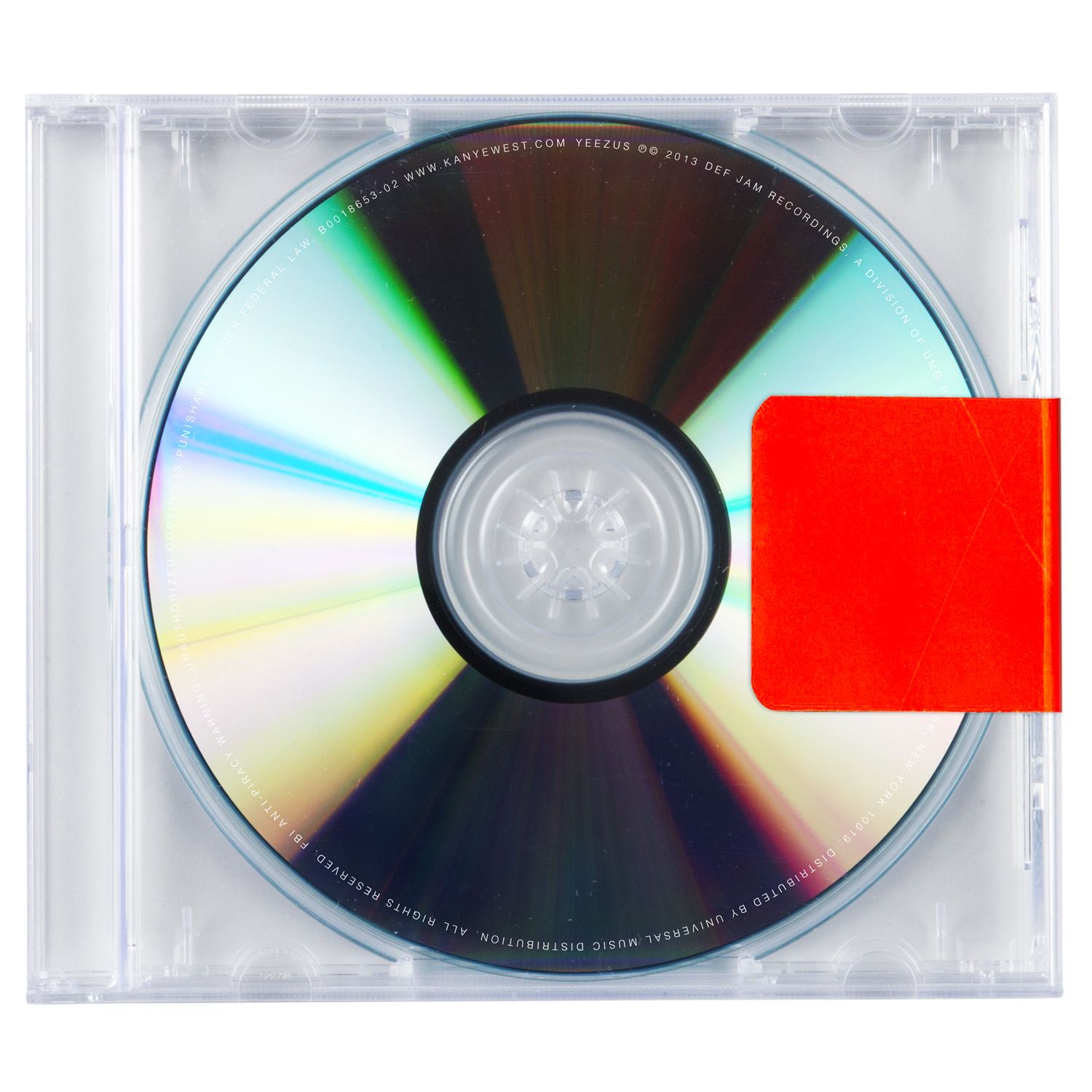 Explaining the non-art of Yeezus's clear CD jewel case and blank silver disc, a red tape seal its only flair, Kanye tweeted: "Simplicity." (That tweet, as most of his others, has since been deleted.) The artist wished the acerbic album's music to stand on its own and therefore stripped away all frills and distractions… electing to save those for his interviews.
---
7. Late Registration (2005)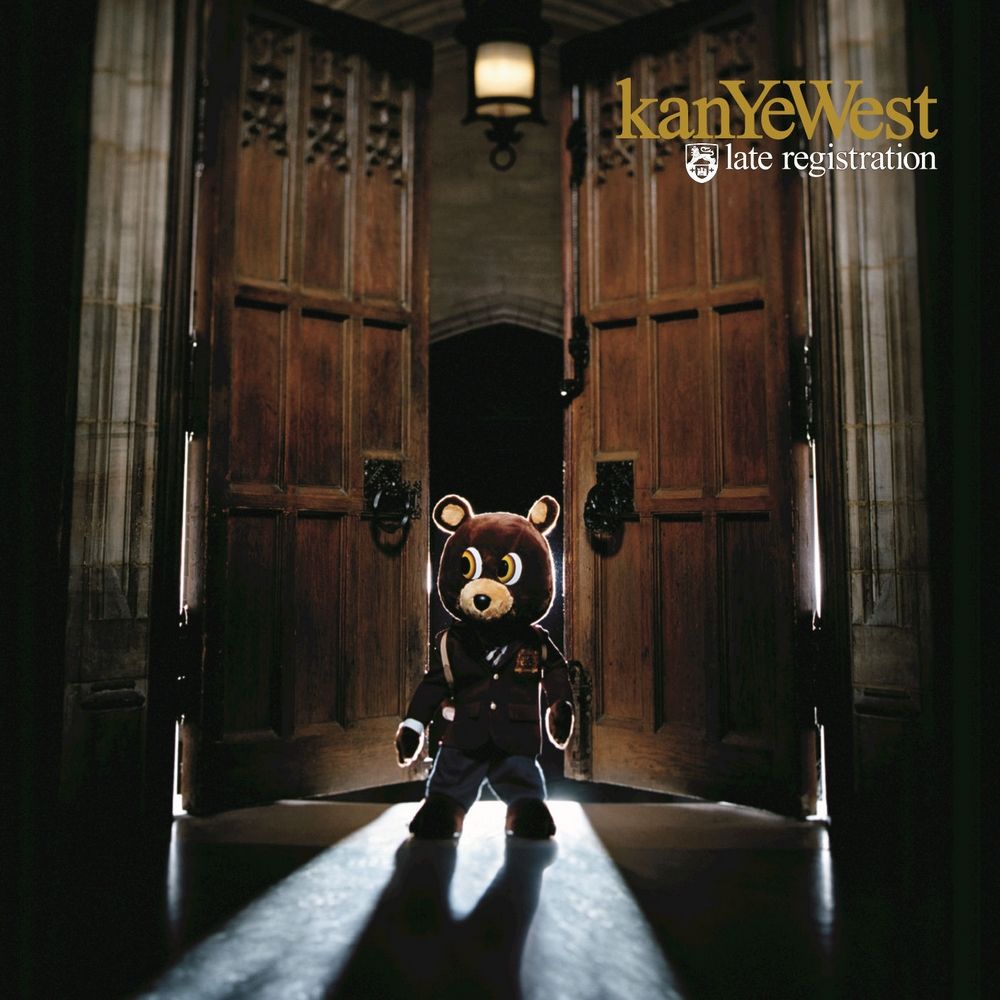 The Dropout Bear appears cowed by the gigantic wooden doors of an esteemed postsecondary education institution. He's tardy and uncertain if he's ready for this. Designed by Morning Breath, Inc. and shot by Sarah A. Friedman at an actual university, Late Registration conjures all the mystery and promise of a combustible student showing up for his first day at Hogwarts.
---
Related: All 9 J. Cole Album and Mixtape Covers, Ranked
---
6. 808s & Heartbreak (2008)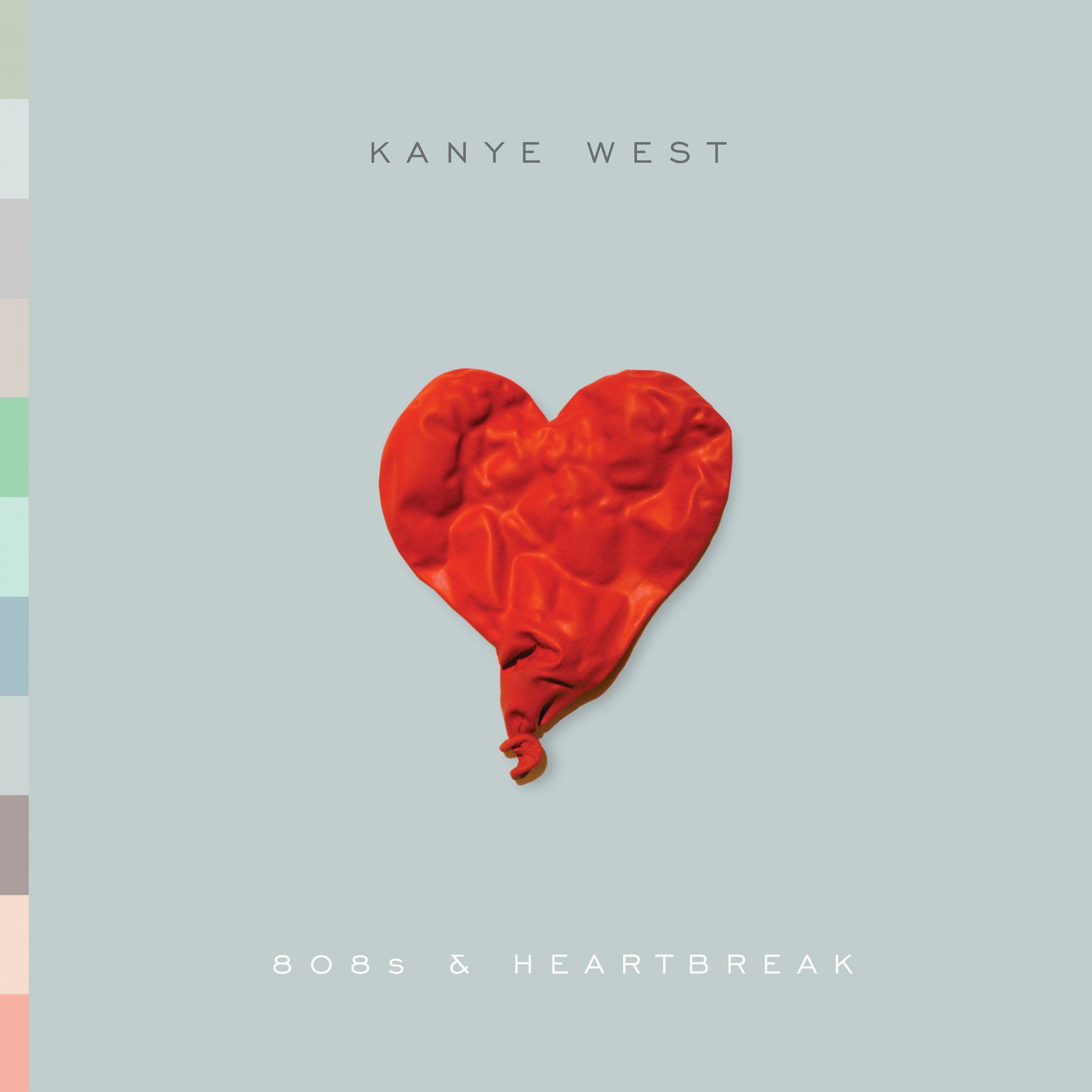 Brooklyn-based street artist KAWS creates the visuals for Mr. West's dramatic audio swerve away from chipmunk soul samples and witty bars to his emo Auto-Tune era. Gone is the Dropout Bear and childlike playfulness. In comes a deflated balloon heart (on the alternate cover, it's viciously torn in half by an invisible Mickey Mouse).
---
5. Watch the Throne (2011)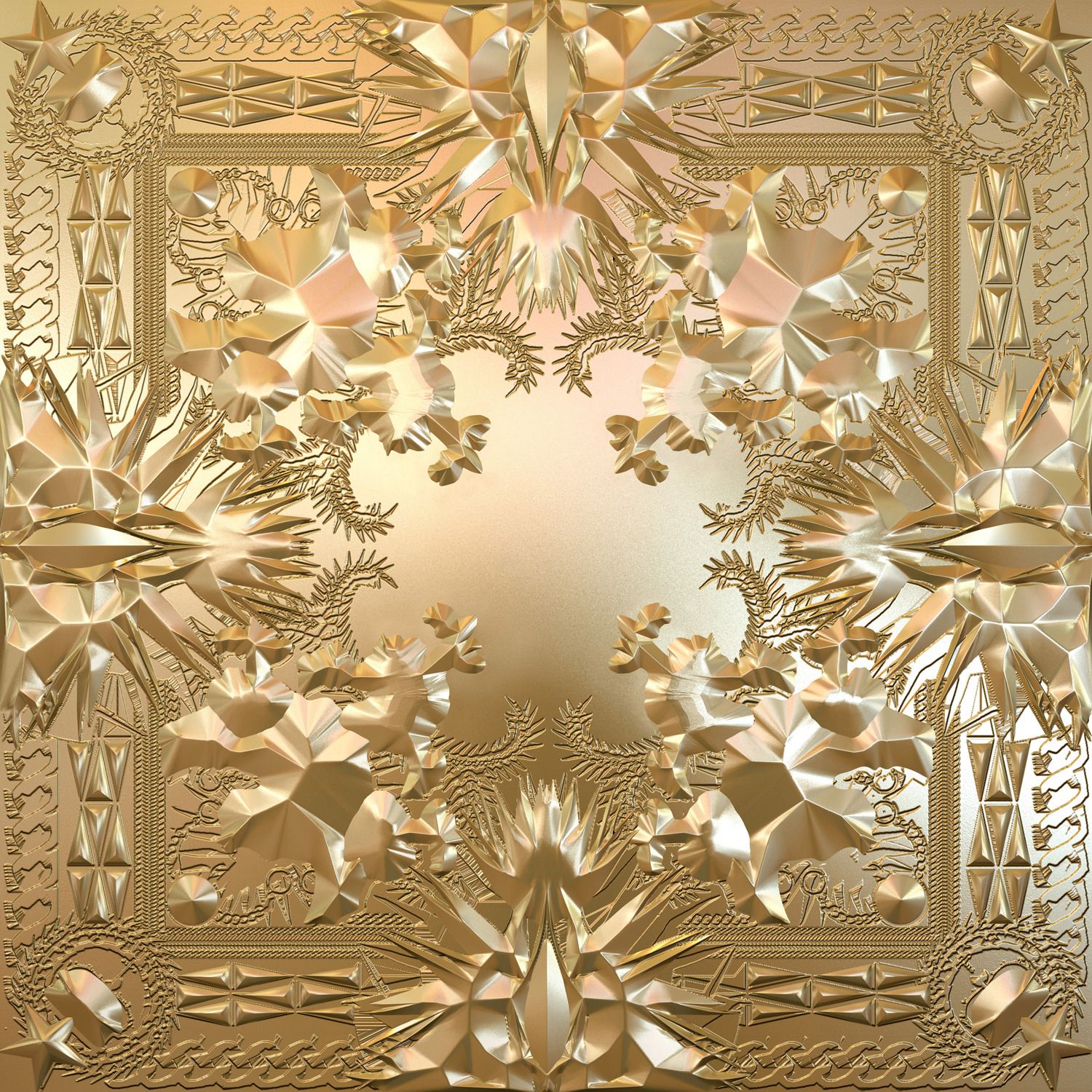 A record sleeve fit for a king. Designed by Givenchy's Riccardo Tisci, Watch the Throne's golden and gilded intricate symmetrical patterns evoke medieval royalty of the highest order. One can imagine Jay-Z and Kanye posted up at the head of a castle banquet table being fed grapes by damsels when a servant walks in and serves them the severed head of a wack MC on this golden platter. Hot cover. Haute couture.
---
Related: All 13 Jay-Z Solo Album Covers, Ranked
---
4. Kids See Ghosts (2018)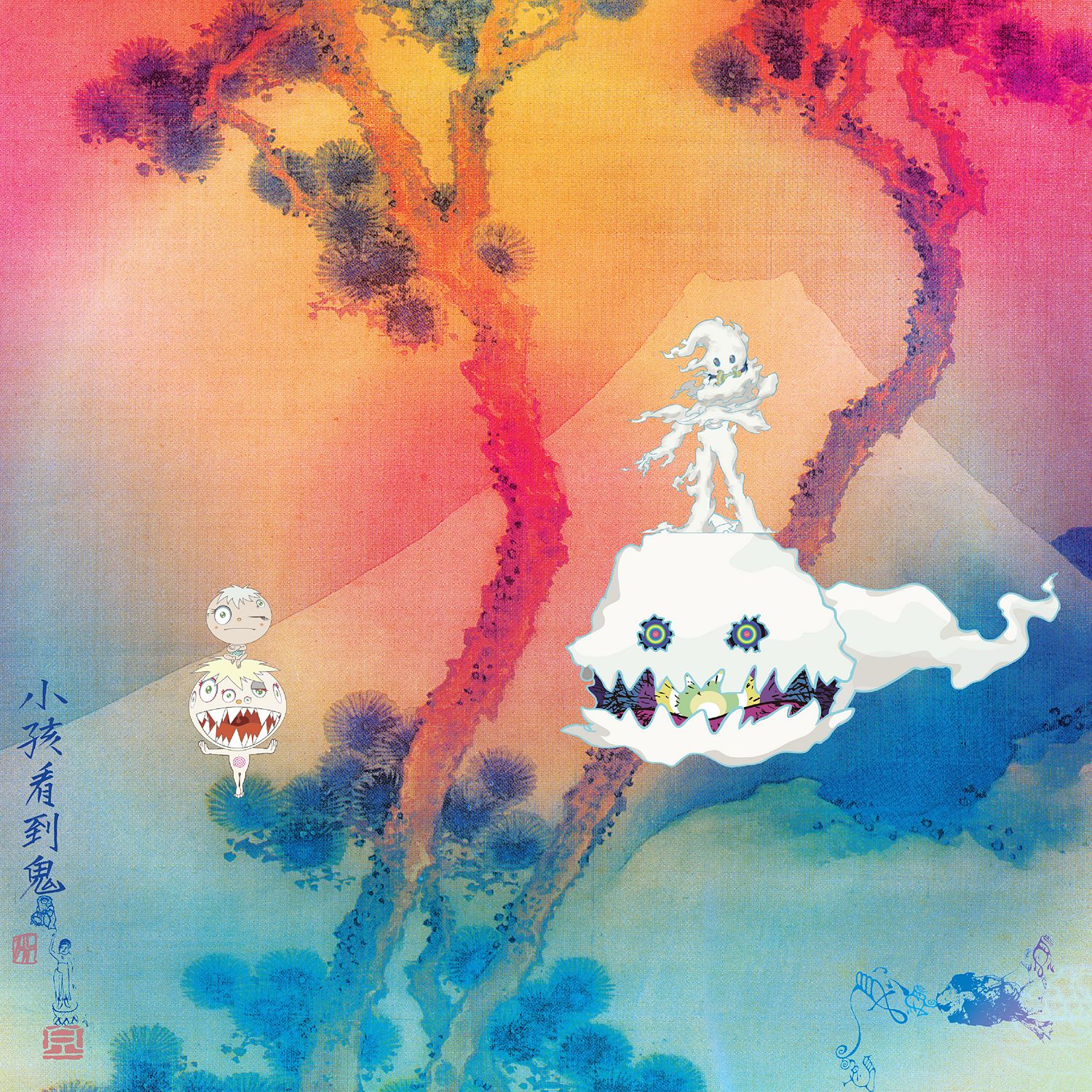 Takashi Murakami, the Japanese contemporary artist, based this ghostly print on Hokusai's landscape series Thirty-six Views of Mount Fuji. More like Thirty-six Night Terrors for Toddlers, am I right? Where's Ms. Pac-Man when you need her?
---
3. Graduation (2007)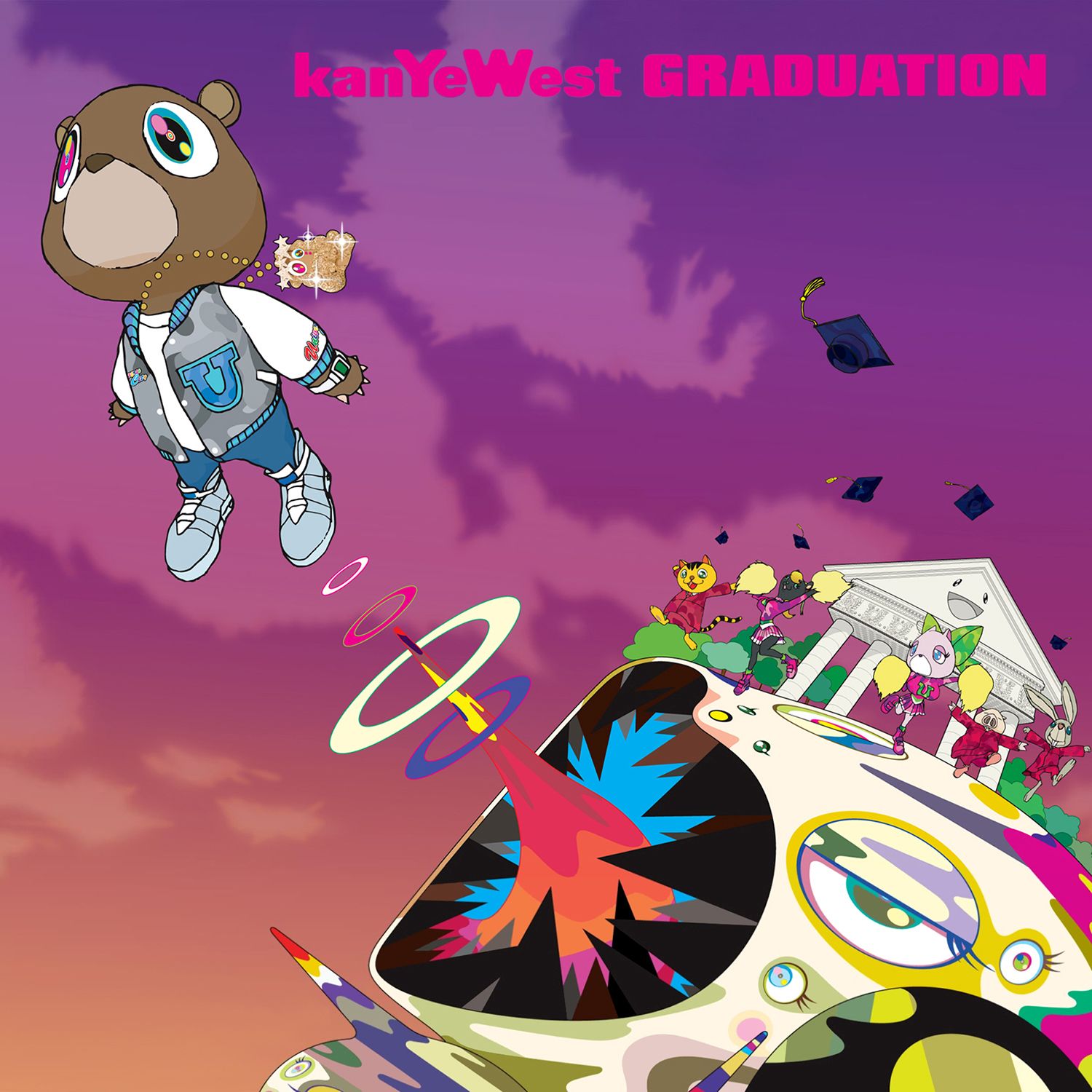 After visiting his Tokyo studio in 2006, Kanye enlisted Murakami to illustrate the third installment of his miseducation trilogy. The Dropout Bear—now blinged-out and proudly sporting a letterman jacket—comes soaring out of "University City" like Astro Boy with a diploma. Colorful, fun, and jubilant, the imagery matches the music's sentiment exquisitely.
---
Related: All 9 Nicki Minaj Mixtape and Album Covers, Ranked
Related: All 6 A Tribe Called Quest Album Covers, Ranked
---
2. My Beautiful Dark Twisted Fantasy (2010)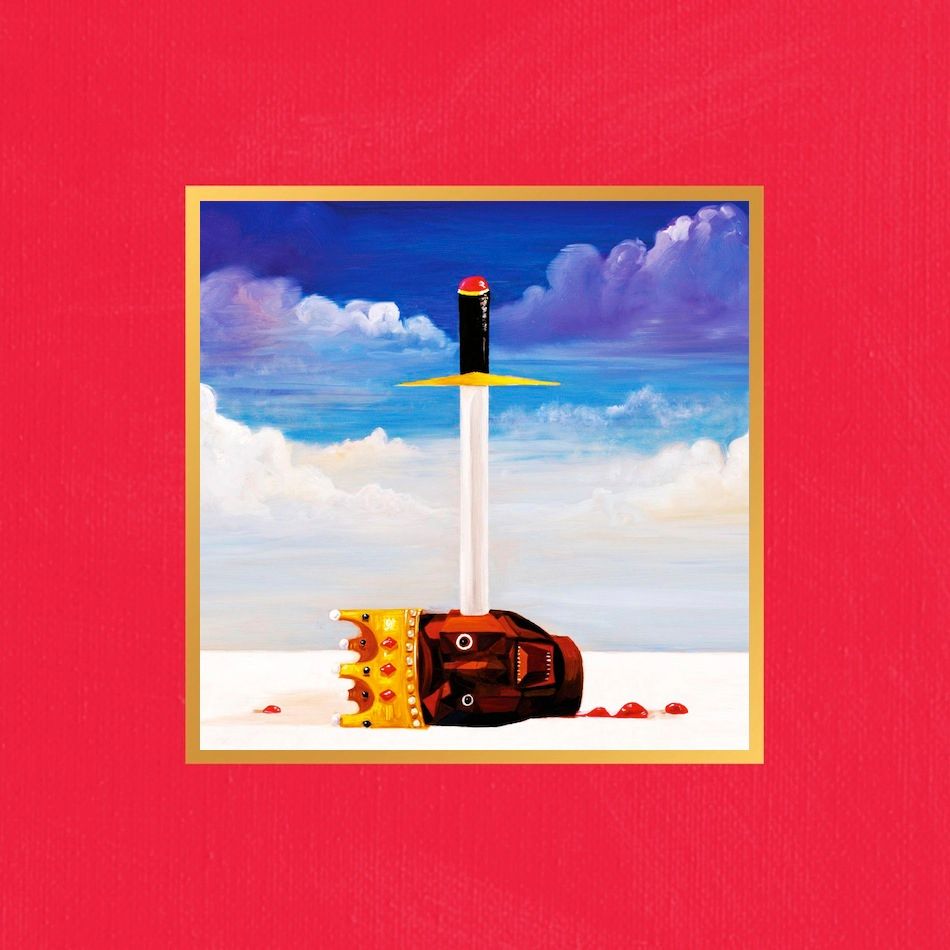 Rumor has it that Wal-Mart censored the primary cover art Kanye commissioned from psychological cubism icon George Condo. (The superstore has denied such claims.) The above image is a more tame edition of the dark, twisted album art—one of five images commissioned by Mr. West. The most controversial, however, depicts a booze-nursing man seemingly meant to represent Kanye being, um, entertained by a winged, polka-dot-tailed female (former girlfriend Amber Rose). If Picasso had a fetish for painting freaky werewolf sexcapades, he'd dream up something like this monster.
---
1. The College Dropout (2004)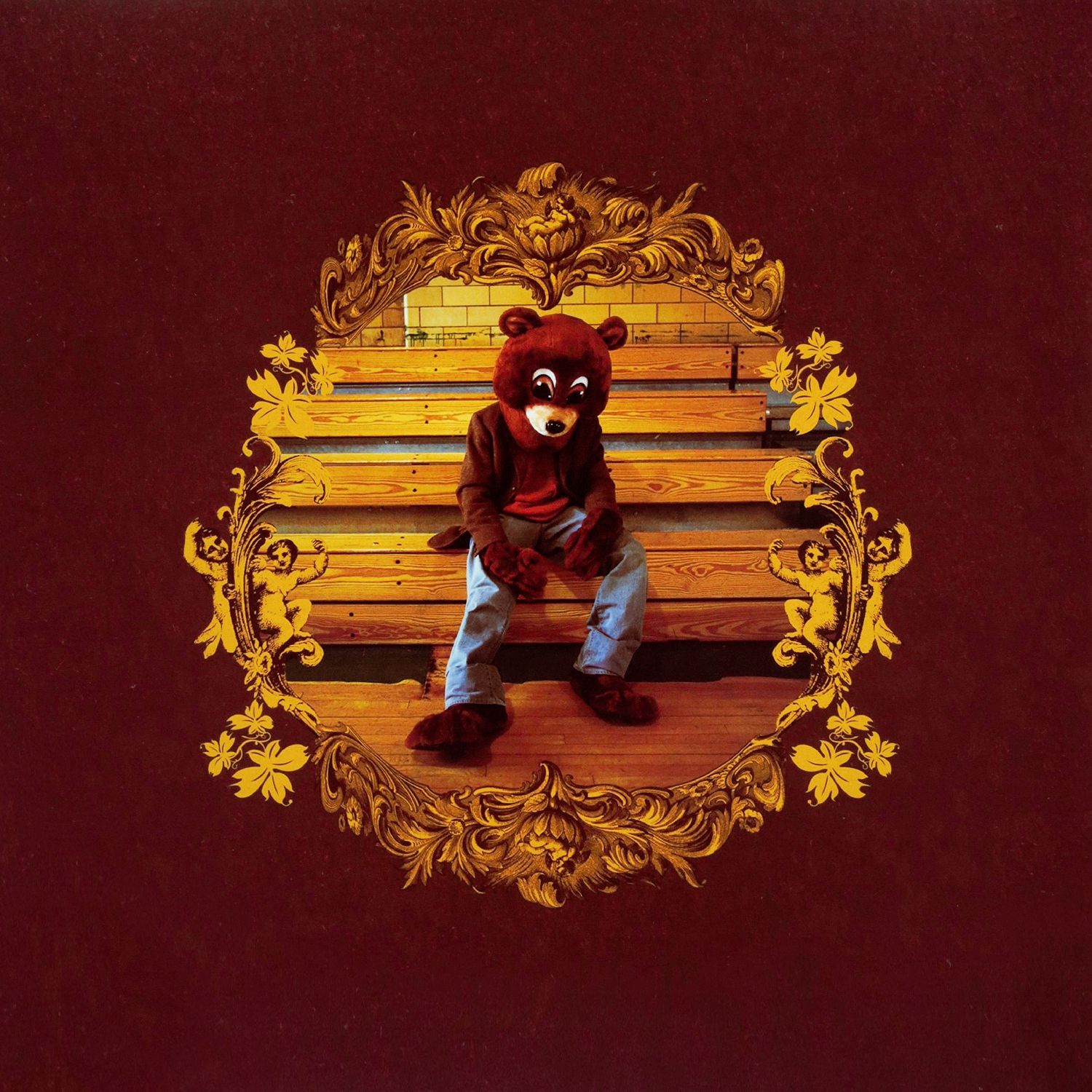 Rare is it for a debut artist to obscure his own face on the cover of his first drop. Especially one with a healthy ego. Yet, Kanye West is not your average bear. Yes, that is your lovable, relatable, pink-Polo-wearing rapper-producer inside the mascot costume, bummed out on the gymnatorium bleachers. "I was surprised as anyone that he covered his face for the album cover," photog Danny Clinch told Complex. "But at this point, knowing his history of breaking the rules, it doesn't surprise me at all."