The definitive book on hip-hop fashion has arrived.
Sowmya Krishnamurthy's newest work, Fashion Killa: How Hip-Hop Revolutionized High Fashion, documents the connection between hip-hop and couture. The veteran music journalist discovered a void on the bookshelf back in 2018, while interviewing the likes of A$AP Ferg and stylist Misa Hylton for an XXL magazine feature. That 1,500-word piece became the basis for a hardcover of its own.
"I knew I wanted to tell an important hip-hop story," Krishnamurthy tells LEVEL of the project that took nearly three years to complete. "Something that hasn't been told before, and especially not as in depth as I wanted to tell it and with the level of prestige and gravitas that this subject deserves."
Related: The Subtle Flex of Being the Fashionable Guy in the Office
Fashion Killa (out now), which is aptly titled after A$AP Rocky's Long. Live. A$AP. album cut of the same name, is made up of 16 chapters that cite more than 40 sources. The 80,000-word piece dispels myths (i.e. the widely covered '90s rumor about Tommy Hilfiger saying high fashion wasn't intended for minorities) and shares surprising tidbits (like Biggie rocking Bape long before Lil Wayne and Soulja Boy). Krishnamurthy insists her book has something for everyone. "Even for somebody who thinks they're an expert," she says, "I promise you will learn something new."
Knowing that Krishnamurthy has a knack for bold takes (see her viral read of Drake's For All the Dogs, from her recent appearance on The Breakfast Club), LEVEL challenged the author with creating a definitive Mount Rushmore of fashionable rappers. Below are her fashionable four (plus a bonus!), and the rationale behind her selections. —As told to Kemet High
---
Pharrell Williams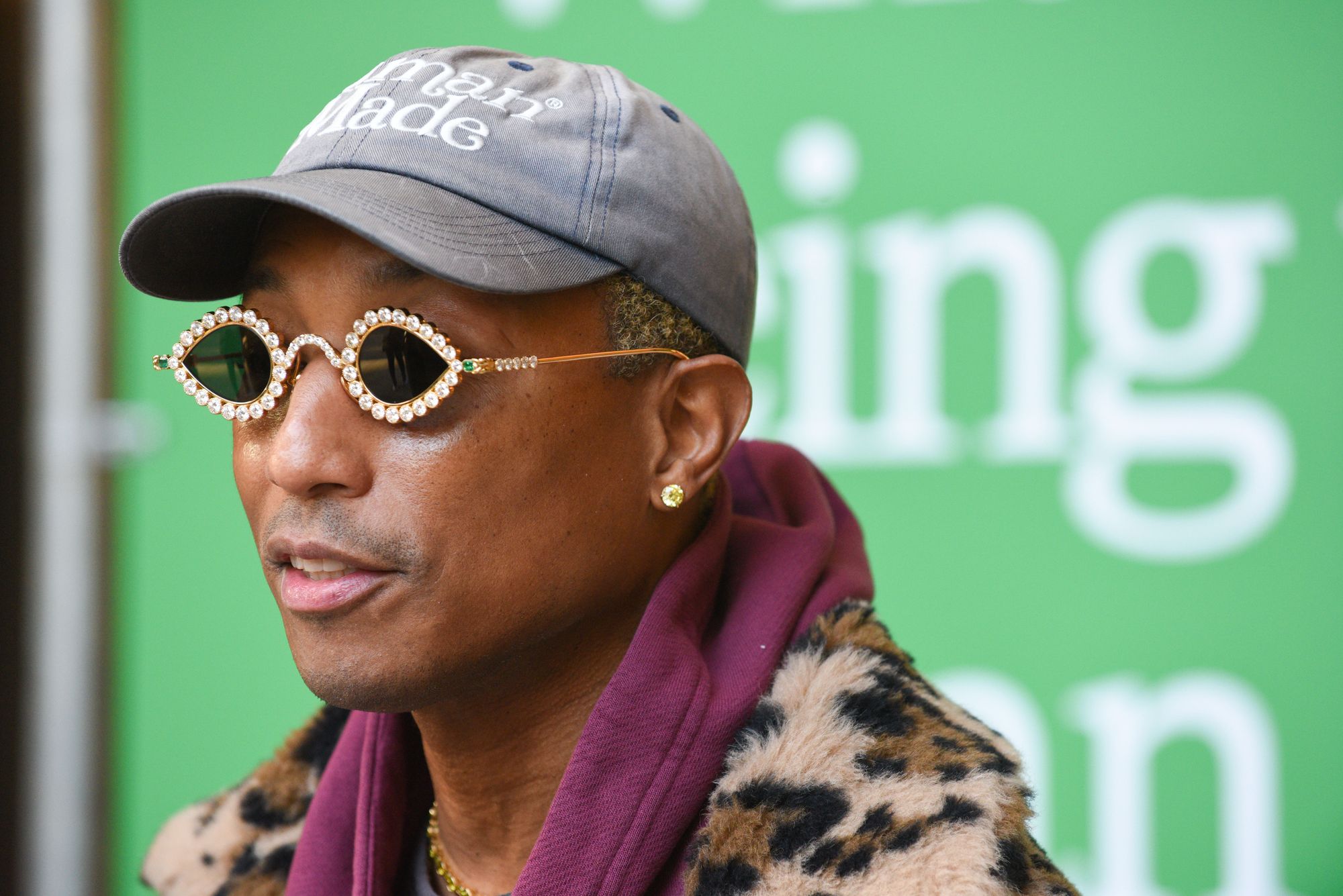 As creative director of Louis Vuitton, Pharrell really is the face of one of the most respected heritage houses. He took this post from Virgil Abloh, who tragically passed away a few years ago. Big shoes to fill, but Pharrell is the perfect person.
Related: Virgil Abloh Dared a Generation to Dream
Pharrell started very much as this rebel. He came into hip-hop in an era where everyone was still wearing baggy jeans and XXXL white tees; he was the guy in skinny jeans and trucker hats. Nobody knew what to do with him. It was a totally different style. A lot of the established artists pushed back. It was this idea that, "Your jeans are too tight, we're not gonna wear this silhouette."
He was obviously a huge proponent of Bape and bringing Nigo into hip-hop's collective consciousness—but also his own BBC (Billionaire Boys Club) line. And I think he had his eye on high fashion very early. He was working with people like Karl Lagerfeld and Donatella Versace. And showcasing that he had an interest in being taken as a serious leader in high fashion. So, of course, we gotta shout out Pharrell Williams. Whether you know him as Skateboard P, whether you know him as the guy in the famous Vivienne Westwood buffalo hat or as the face of Louis Vuitton, he's gotta be on this list.
---
Sean Combs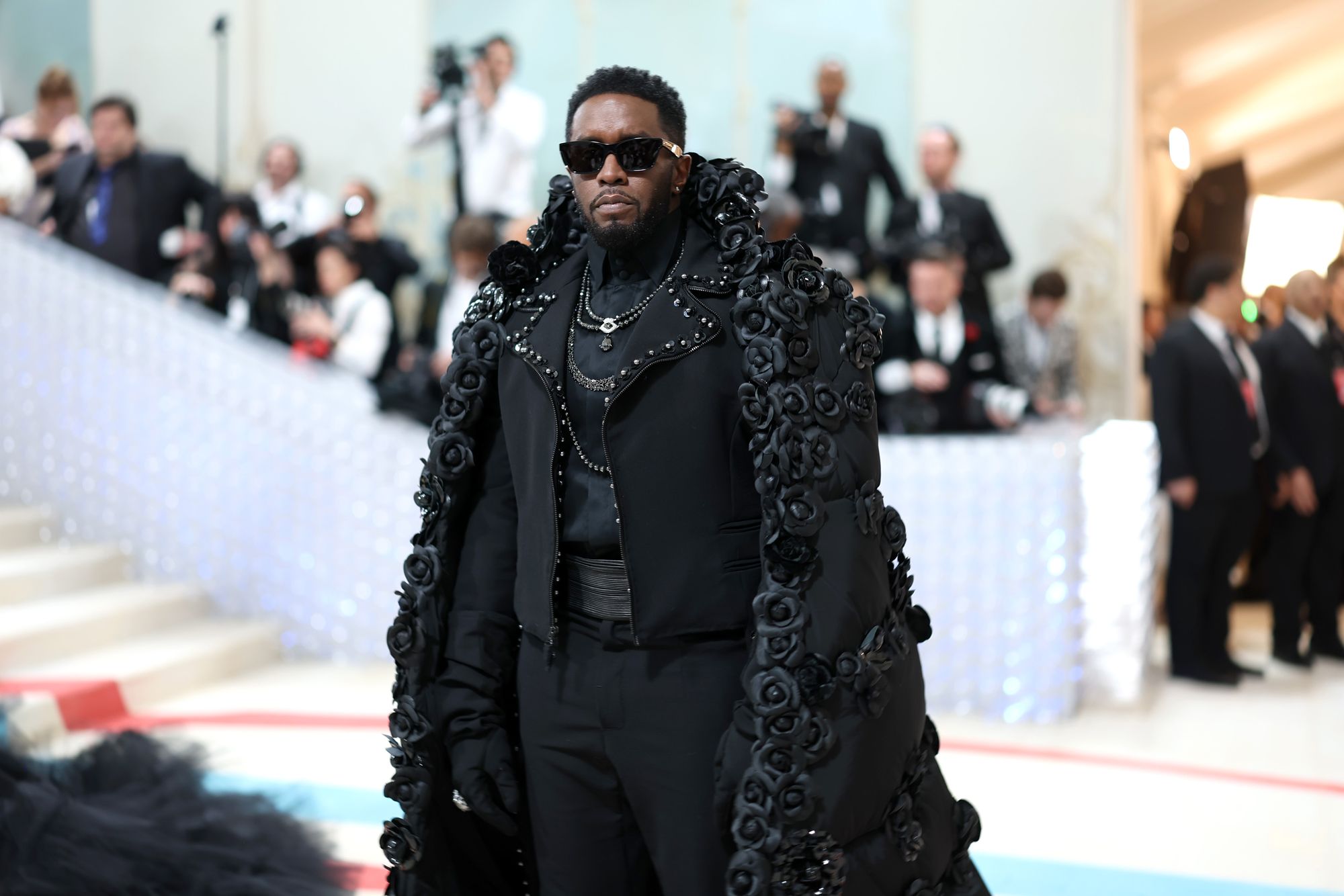 This man goes by many names: Puff Daddy, Diddy, Love. I call him Sean "Puffy" Combs. His love for fashion cannot be denied. That Harlem swag and that fly DNA is all over him. He came up through Andre Harrell, in the era that we know as ghetto fabulous. Without him, I really think artists like The Notorious B.I.G. and Mary J. Blige or Jodeci would have their own distinct styles.
Related: The Legend of the Biggie Belt
From the first day he met Andre Harrell, I believe Puffy had a tie on. Very formal. He knew that aesthetics were important. In 1998, he launched Sean John, which is probably the most respected hip-hop fashion line when we speak about the fashion industry. He won a coveted CFDA award with that, because unlike a lot of other hip-hop lines, his spoke to culture at-large. So the Sean John man might have a velour suit on during the day while he's in meetings. Then he's gonna put a suit on at night. And then he might throw a fur on over it when he goes to the club. It was very much this upscale, bling-like style. And he just upped the game when it came to design.
Puffy's runway shows were full productions. And he brought the fun and the drama of hip-hop into high fashion. So you can call him by any name, but to me, he's absolutely one of the most fashionable people in hip-hop.
---
Lil' Kim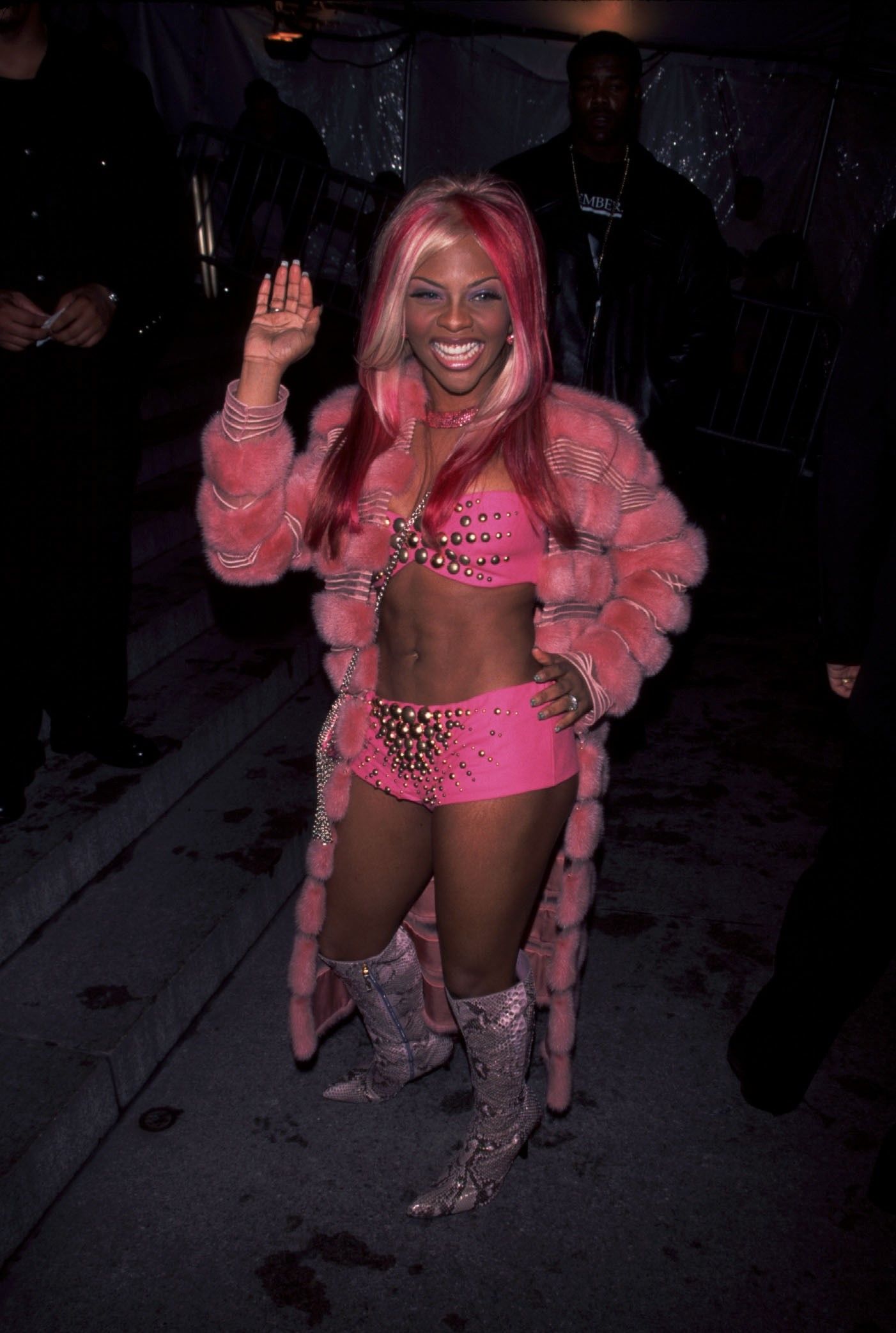 We might not have all been around for the moon landing, but we all know where we were when we saw Lil' Kim wearing her famous outfit at the 1999 MTV Music Video Awards. This look turned boys into men, girls into women. This was a moment that showcased hip-hop's sexuality and femininity on a global stage.
What I love about Lil' Kim, since the beginning, is that she's embraced the ghetto-fabulous style. She's embraced the style reflected growing up in Brooklyn and West Indian influences as well, when it comes to her clothing, her colorful wigs, the makeup, the accessories. And she also worked with a lot of important figures in this book such as Misa Hylton, a longtime stylist who crafted that famous VMAs look. Lil' Kim is fearless and fun. It makes sense that she's been a muse to so many high fashion notables, from Marc Jacobs to David LaChappelle.
---
Kanye West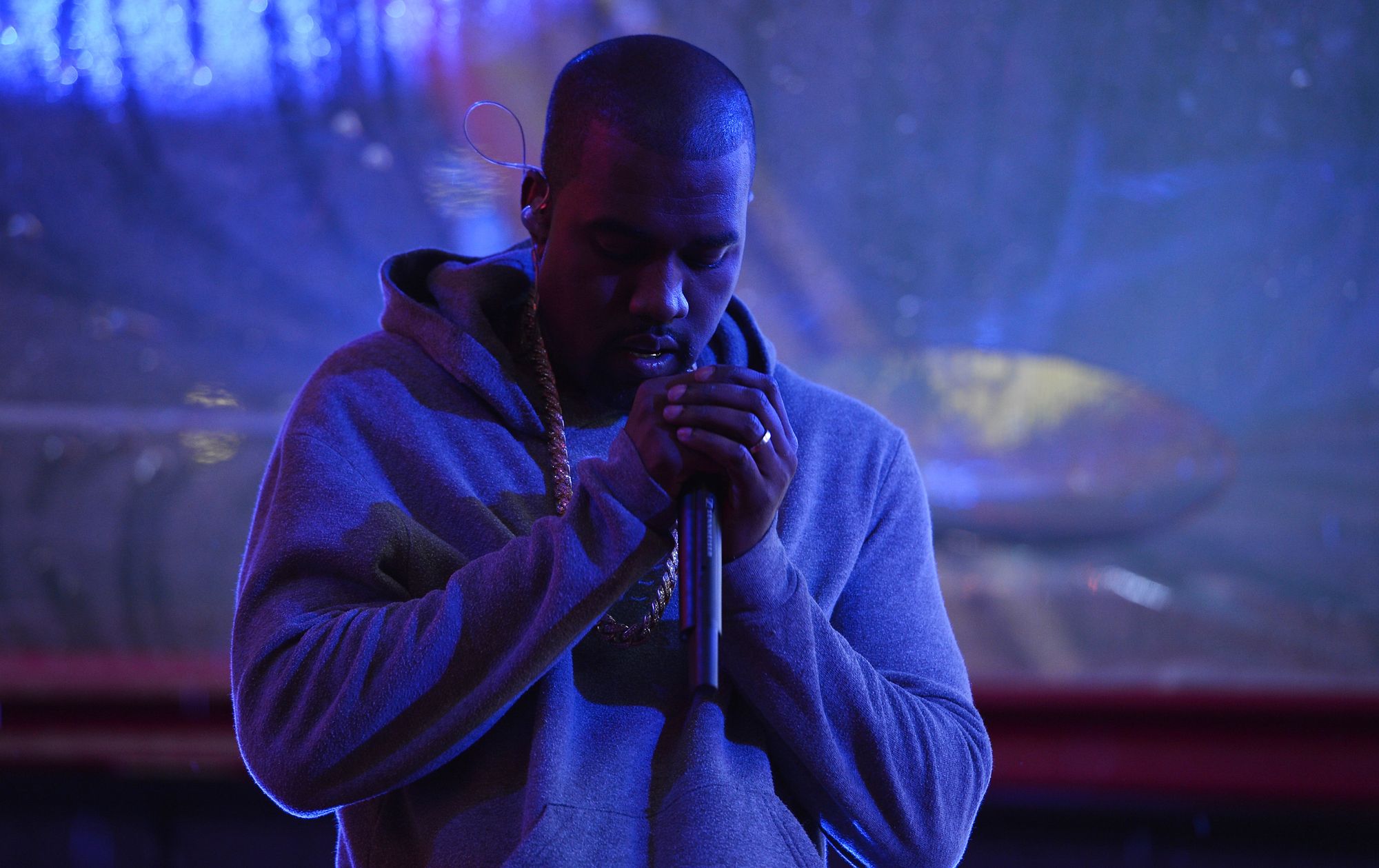 I know a lot of people in 2023 who were not sure where to put Mr. West. But putting his many, many controversies aside, Kanye is fashion. And from the very moment he entered this industry, he had a vision to become a fashion icon/legend." And he did it. He went from being the Louis Vuitton Don—with his pink polos and his LV backpack, along with his love of Ralph Lauren and Polo—to heading the most commercially successful hip-hop fashion line.
Related: All 12 Kanye West Album Covers, Ranked
With Yeezy, Kanye truly showcased that he doesn't follow trends, he sets them. There was a time when we would look at every high fashion runway, and you could swear they were just biting off of him. Everyone's doing these neutral palettes. All of a sudden, everyone wants to copy his sneakers. Whatever he wears, everyone follows. This man is a consummate trend setter. And what I love about him is that everyone around him instantly becomes more stylish.
You think of Kim Kardashian, who really revolutionized her fashion sense. She went from being very much a California girl to now a couture darling. Once they started working with G.O.O.D Music, Pusha-T and Big Sean's whole style elevated. Everyone in Ye's orbit feels that warmth—and also that pressure. Everyone has to step their game up. So hate him or love him, Kanye's legacy can never be denied.
---
Tupac Shakur (Bonus)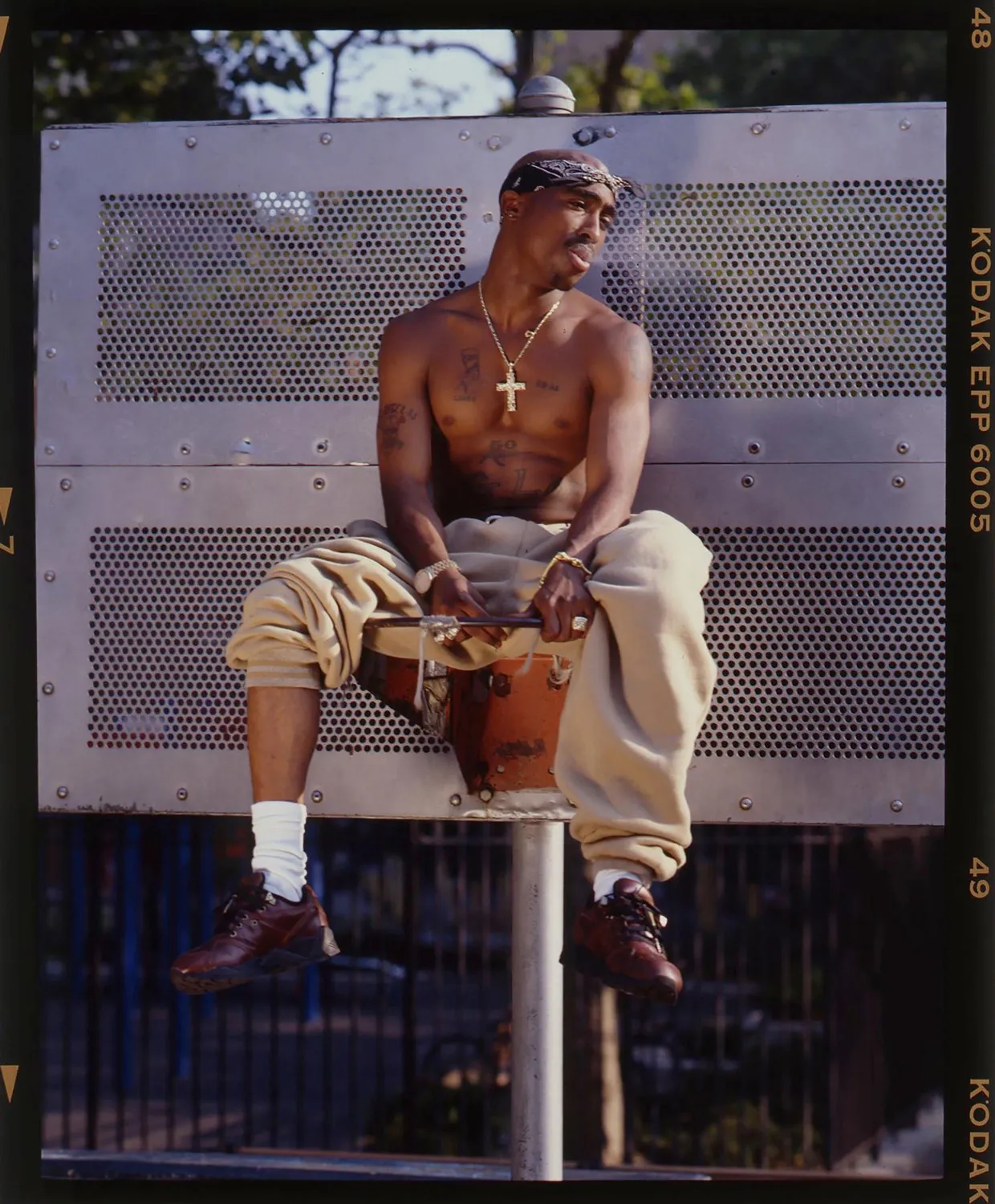 We all know 'Pac as a revolutionary and as an icon, but i don't think his contribution to fashion is as amplified as it should be. Tupac is somebody who, as I showcase in my book, supported a lot of ascending hip-hop brands. I have a great interview with Karl Kani as well as one with April Walker; both attribute Pac for helping propel their brands. What I love about that is he didn't have to do that. He could have worn anything he wanted. But the fact that he chose to support these young, Black designers… and in the case of Karl Kani, he didn't even charge him to be the face of this campaign. I think it's dope and it just shows the type of person 'Pac was and the heart he had.
Related: The Striking Similarities Between These Rappers and Ancient Philosophers
There's a great vignette in my book where Karl was telling me the first time he met Tupac. So they're at the SLS Hotel in Beverly Hills, Calif. Tupac has a blunt in his mouth and he's furiously typing away a script on the computer. And Karl asked him, "Hey, would you model my clothes?" And 'Pac said, "Yeah, I got you." So of course, then comes the $1 million question: "How much are you gonna charge me?" 'Pac looks at him and he's like, "Nothing, you're Black, I don't charge my people." That moment shows 'Pac's mentality and the love he had for fellow creatives and for the culture.
Right before he passed away, Tupac walked in a Versace show in Milan. I have a great photo of him in Milan in the book. It was shot by a photographer named of David McLean. And he just caught 'Pac in this rare moment of quiet. He's got his head down, you see his beautiful long lashes. And it just showed this handsome, strong, mysterious, alluring artist. And it shows the full circle—that Pac could work with a brand-new entrepreneur in hip-hop fashion and then work with one of the biggest fashion lines in the world.