The quiet countryside of New Hampshire is only 200 some-odd miles from Brooklyn's bustling streets, but it might as well be another country. When Karl Lawrence and his wife, Alisa, moved there from BK in 2020 to take over New England Sweetwater Farm and Distillery (NESW), they (along with his sister-in-law, Nilaja, and brother-in-law, Kenny Young) embarked on new lives and new careers.
Since then, the Winchester-based craft distillery—a rare Black-owned American facility of the sort—has grown in both size and recognition. Its Ashuelot Gin and Clark and Chesterfield American Single Malt Whiskey have garnered top honors at the 2022 San Francisco World Spirits Competition. New Hampshire Magazine also named it one of "Best of New Hampshire 2022 Editors Pick."
"We are a true distillery," says Lawrence, explaining the elaborate process in which hangover-causing impurities are removed from whiskey, which is key to the brand's elite flavor profile. "We're not buying liquor from somebody else and putting our name on it. We're getting grains locally as much as possible."
LEVEL recently spoke with Lawrence—who is NESW's master distiller—about changing careers from music to moonshine, his crash course in alcohol production, and how to select high-quality spirits that you won't regret the next morning.
---
LEVEL: You guys took over the distillery three years ago. Is that correct?
KARL LAWRENCE: Yeah, about three-and-a-half years ago. My wife's cousin [Robert Patton-Spruill] started the business eight years ago. He learned the art of distilling from his grandfather down in the woods of North Carolina. He (his grandfather) used to have a juke joint—he supplied his own whiskey and moonshine. So, my wife's cousin used to go down there every summer as a kid; he started learning it from the age of 10. He just loved it so much that he eventually opened up a distillery. After doing it for four years, he wanted to move on and do other things. He wanted to sell it, but keep it in the family. So, he approached my wife and my sister-in-law, and they agreed to purchase the business and everything. We all got in there and learned the stuff. He taught me everything I needed to know about distilling. I'm still learning.
That's awesome. What was that transition like? What did you do prior to becoming a Master Distiller?
My wife and I were in the music industry: managing artists, managing recording studios, things like that. We dealt with liquor on the other side, where we would get [brands] as sponsors for videos or placements. We were never really on the other side of making it. At first we thought, "Hey, we'll go to New Hampshire for two weeks and come back to New York and, you know, we can make it work," because it was me, my wife, her sister and her husband. We thought we could switch off, you know? But we quite shortly learned that wasn't going to happen. It was going to take full dedication, because once we saw the place, we saw the potential. It was just a mom-and-pop operation at the time, and we saw the potential to take it to a national level.
It's a lot of manual labor. You lift a lot of 50 pound bags of ingredients like sugars, grains, and things like that. It gets very intensive, but it's a lot of fun when you get to that end line, and taste what you make.
That had to be a culture shock in a lot of ways. What were some of those early days like? What were some of the early lessons that you all learned?
For me, the transition wasn't that strange because I'm used to it. I'm a serial entrepreneur. I like to jump and dive into doing other things. So, even switching up industries… I look at things as a product is a product. You make a sale. You just have to learn the industry that you're going into. Once you master that industry knowledge, then everything is pretty much the same. It's like a template, you know?
Moving from Brooklyn to Winchester, where it's not many of us here, it was kind of a scary moment in this day and age. But, it has been great. We haven't received any kind of tension or anything. It's been the opposite. We received a lot of love and we've got different groups coming into our distillery, doing tours, coming into the tasting room, just having good old conversations, getting to know one another, and just changing the dynamics of things. It's been wonderful.
Related: No, Heavy Drinkers Can't Hold Their Liquor Any Better Than the Rest of Us
There's an art to making whiskey and an art to making music. How have you imparted yourself into New England Sweetwater now that you have taken the reins?
Since taking over the distilling, I've poured myself into gaining as much knowledge as possible about the distilling world. You have to be a lover of science, because this is a science. I tell people all the time that I feel like a mad scientist in there, because I get to do whatever I dream of. Any ideas that I come up with as far as mixing or making a recipe, I can just play around with those things. But it is also very dangerous in a distillery, because you're dealing with a lot of pressure, a lot of alcohol, a lot of vapors. You can easily blow that place up if you don't know what you're doing. You have to be very careful. I try to get as much knowledge as possible, especially learning the equipment, how it operates, how to take it apart and put it together.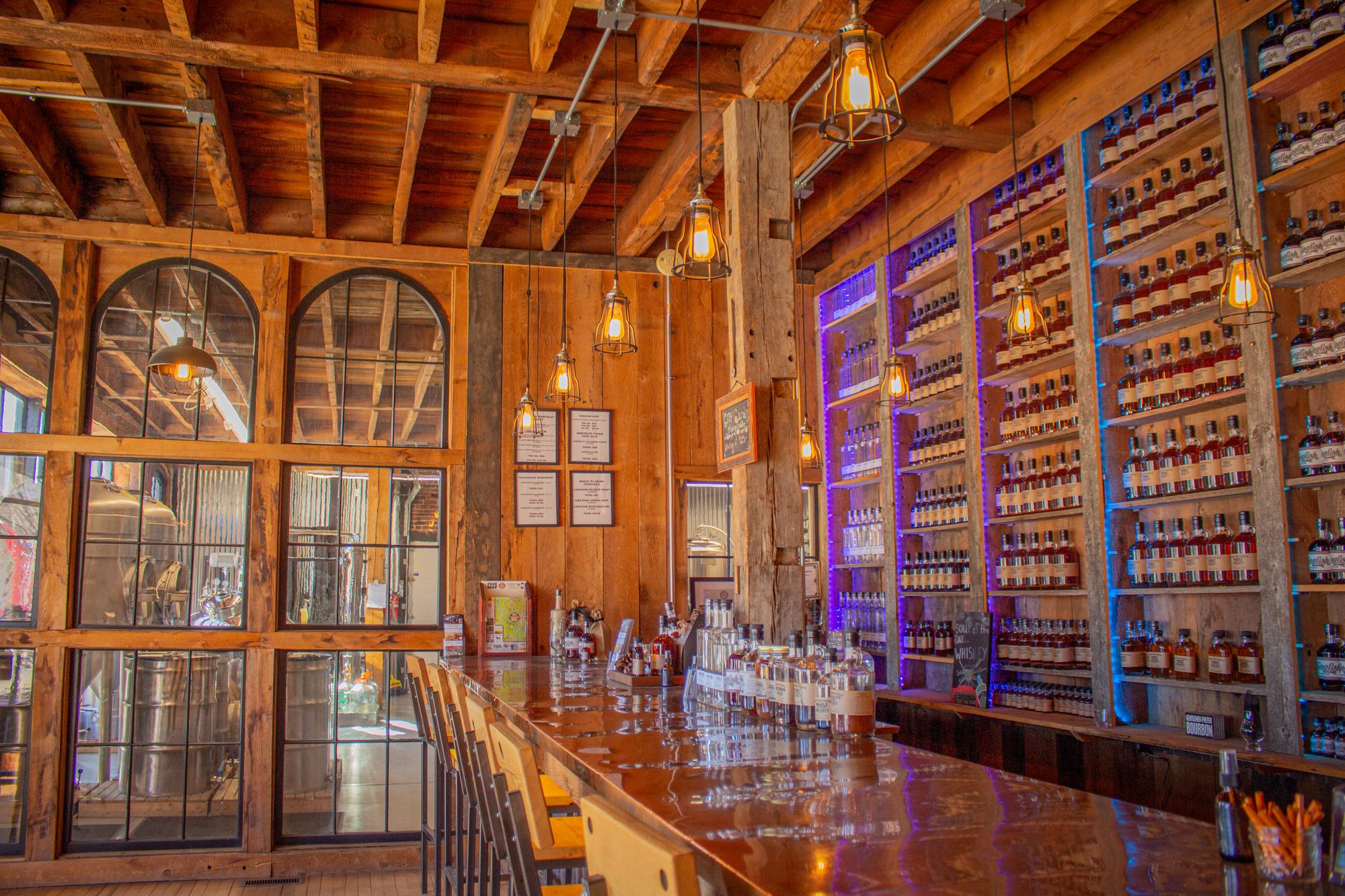 Has the process changed since you took over or are you following the original family recipe?
We are pretty much sticking to the original family recipe. Some of the process may have changed a little bit, but not to any great effect. One thing in making spirits is the slightest thing can change your flavor profile, and right now we have a very good flavor profile that I believe is competitive to everyone else. We get so much compliments on and praises on our stuff that when people taste it they turn into advocates for us and they're like, "I can't believe that this even exists. And it tastes so smooth." So, we want to stick to what we know is best, and play with new stuff, new flavors. We're known for whiskeys. Our whiskey line is Chesterfield. We make bourbon, single malt whiskey, chocolate whiskey, honey whiskey and maple whiskey. All of those added in flavors are natural. We get our honey from a bee farm in Massachusetts. We get our maple from a guy from down the street who taps his own tree. We try to stay as local as possible so we can get those flavors into our products.
It's very dangerous in a distillery, because you're dealing with a lot of pressure, a lot of alcohol, a lot of vapors. You can easily blow that place up if you don't know what you're doing.
Were you a whiskey drinker prior to coming on board? What was your whiskey knowledge prior to this?
I wasn't definitely not a big consumer of alcohol. I'd have a drink here and there, for a celebration and things like that. But on a day-to-day basis, that wasn't me. So I immediately had to learn everything. I had to teach my palate to recognize certain flavor profiles. It was a rocky road that first year, because I had to really get that flavor profile, knowing what I'm tasting, knowing what's right, what's bad and what is perfect for us. And I think I rushed through it and had a lot of drinks [laughs]. I tasted a lot of different stuff. We would have people come in and teach us stuff. Not just me, but the whole family. My brother-in-law, who also helps out with the distillation process. We all had to learn what a good whiskey tastes like, what the best whiskey tastes like, and what the worst whiskey tastes like—at all price ranges. We did that for a good year of just tasting and building up our palates.
What advice do you give to new drinkers when you're doing your tours and tastings?
You want to first make sure you learn about the process. It gives you a better understanding of how the whiskey is going to taste. Make sure the facility is clean. Our facility is immaculate. A clean facility adds to your flavor profile as well. People are looking for the smoothness, the flavors that are coming from the barrel, the type of barrel they are using. Then you can gauge what kind of flavor profiles you'll get from it, whether it's sweetness from the oak or if they char it on the inside a lot, does it have a more smoky taste to it?
These are things you wanna look for in whiskey. How is it distilled? Are you cutting the heads and the tails and keeping the hearts? We only bottle the hearts, which is premium top shelf alcohol… Just bottling up everything [doesn't give] people what real whiskey tastes like. You want clean as possible, smooth as possible, and not too much bite.
Related: These Low-Calorie Alcohols Will Help You Avoid Weight Gain
What advice would you give to people who are looking to get into craft distilling?
I'd say it's a space where you definitely have to do your homework. For one, there's a lot of red tape and paperwork you have to go through with the government, both federal and state. So be prepared for that. And each state is different. If you're only selling out of your home state, find out all the laws and rules and regulations in that particular state. But if you're trying to expand and sell your products in other states, you have to know there's different laws for every state. You would have to file for it and apply for those things. But also come up with a good recipe. If you're going to actually distill, come up with a good recipe, talk to other distillers, get advice.
People can reach out to me if they want. We have done that ourselves, reached out to other distilleries and distillers to get advice, see what type of equipment is best, any improvements we can make. You just need to be as curious as possible, ask a lot of questions and be ready for a lot of work. It's not easy making liquor. It's a lot of manual labor. You lift a lot of 50-pound bags of ingredients like sugars, grains, and things like that. It gets very intensive, but it's a lot of fun when you get to that end line and taste what you make.